Good morning! If you're reading this between about 7:40 to 8:40  a.m., turn your radio on to 107.9 Magic in the Morning radio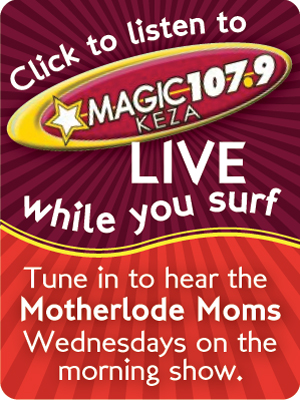 show with hosts Jennifer Irwin and Guy Westmoland. We'll be joining them this morning to talk about moms and technology. We'll be chatting about the latest, greatest technology parents can use to make their lives easier. Click on the graphic at the right to listen to Magic 107.9 live on your computer.
The mamas first talked about time-saving technology nearly a year ago on the Magic in the Morning show. We can't believe it has already been a year! We have such a blast every week with Jennifer and Guy. They really are as fun in person as they are on the air.
Here are links to some of the articles we'll be discussing on the radio show. Just click on the title of each article to read it.
DigMyPics. Turn old photos or negatives into digital photos!
Mamas, don't let your babies grow up to be jpegs
Save time and money with Shop It To Me.com
Warm? Rainy? This site will help you decide what to wear today!
Many of these articles were written by nwaMotherlode's very own Techno Mama blogger, Sarah Hood, who keeps us up to date on all the coolest technology out there and how moms can use it to make our lives easier and more fun. Just click on the Mom Blogs category on the right and then click on "Techno Mama."