This morning on our Mamas on Magic 107.9 radio show (each weekday morning at 7:45, we'd love for you to listen!) we shared a few parenting resolutions you might want to tackle in 2018.
Take your pick from these 5 fun(ny) ideas:
#1: I, parent of a picky toddler, resolve not to eat leftover chicken nuggets and macaroni from my child's plate (or straight from the pan) — at least one night a week.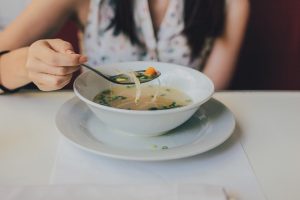 #2: I, parent of an elementary-age child, resolve not to curse in car line on rainy mornings when the traffic is always slower and more cuss-inducing than usual. Instead, I will choose a "kind word" to say in the bad word's place, something like "SHORTBREAD" or "DRAMAMINE IT."
I also resolve to utilize this calming technique: Smell the soup (breathe in through the nose) and COOL the soup (breathe out through the mouth).
#3: I, mom of a teenager, resolve not to roll my eyes in response to my 13-year-old rolling her eyes. Because, yeah, ok, now I've relinquished all moral high ground.
#4: I, parent, resolve not to feel ridiculously guilty if my kids don't take a bath every night. I will feel good that I'm saving water, time and my sanity. It's winter and they don't sweat as much, so there.
#5: I, parents everywhere, will make more time for me time this year so I'll be more patient, have more energy and the kids will learn that being an adult means sometimes you have to put on your own oxygen mask first.
Are you making any parenting resolutions this January? Leave a comment and let us know what you'll be doing — or not doing — in 2018 🙂