It's absolutely frigid outside and you may be going a little stir crazy.  Here are some cool things going on in Northwest Arkansas this weekend that you can explore with the kids – and stay warm!
Pre-School Storytime
Every Friday morning pre-schoolers are invited to join in Pre-School Storytime. Read fun books, sing silly songs, and do a simple craft.
Date: Friday, Jan. 5
Time: 10 a.m.
Location: Bella Vista Library
More info: Click here
School of Rock Open House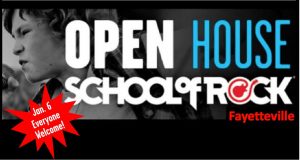 New instrument? Ready to play? Now's your chance to experience the magic of School of Rock — FREE. Come to the Open House  and see how fun and easy music can be! All day demonstrations on how they teach students to rock. Sign up for a free one-hour private lesson and rehearsal demo session (new students only). 30-minute lesson with a music instructor, then 30-minutes performing with a full band. No experience needed and no commitment. Watch the House Band perform throughout the day, raffles and giveaways, and new student tuition discounts. Call ahead to reserve your Lesson/Rehearsal Demo Times.
Date: Saturday Jan. 6
Time: 11 a.m.
Location: School of Rock, Fayetteville
More info: Click here
What Do You Do With a Chance? Storytime
What Do You Do With a Chance? inspires kids of all ages to find the courage to go for the opportunities that come their way.
Date: Saturday, Jan. 6
Time: 11 a.m.
Location: Barnes and Noble, Rogers
More info: Click here
Free Demo: Splatter and Stretch Preschool Art & Movement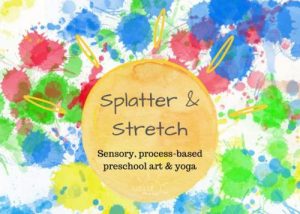 It's time to get MESSY. This 45-minute preschool art class is designed for children 2-5 to explore the elements of art through sensory and process-based exploration. Young children learn best through play and exploration, and this guided art class will stimulate the senses and engage your child's creativity. Class will include movement and yoga to support focus, relaxation, and health. Will provide washable materials, but "messy-safe" attire is recommended. This is a parent/caregiver -supported activity. 
Date: Sunday, Jan. 7
Time: 3:30 p.m.
Location: Jubilee Music & More, Rogers
More info and to register: Click here
Free MomFit Workout
Make a commitment to becoming healthier and stronger in 2018. Join Cecillia from @momfitnwa for a kid-friendly workout. She'll lead you through an interval training routine you can take home and use throughout the week. Class is open to all skill levels. Kids are welcome — in strollers, carriers, or as participants. This demo class is free, but space is limited. Please reserve your spot.
Date: Sunday, Jan. 7
Time: 4:30 p.m.
Location: Jubilee Music & More, Rogers
More info and to register: Click here