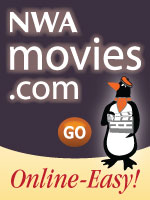 Congrats to Dave and Paula Routon of Bentonville on the launch of a brand new, much-needed site on the Web: www.NWAMovies.com. The site lists all movie theatres in Northwest Arkansas, what's playing and at what time. (No more sitting on the phone waiting for the movie listing recording to play!) In the near future, the Routons also plan to add other movie opportunities such as local libraries and the Jones Center which feature free movie showings.
This new site is super-easy to navigate and you'll love the convenience of being able to look up all the info at home, work, on your phone or anywhere you have access to a computer. Soon they'll also offer a mobile version of the site for easy viewing on your phone, too. We have a feeling you'll bookmark the new site right away. And because we know how much moms like movies, we'll keep a link to the new site right here on nwaMotherlode as well. We love it when a new site makes moms' busy lives just a little bit simpler.
FYI, the Routons also own Parachuting Penguins in Bentonville, which is a full-service graphic design and marketing firm, as well as NWARestaurants.com, where you can check out the area's best eateries. For more info on NWAMovies.com, click here to visit and plan your next trip to the theatre. See you at the movies!