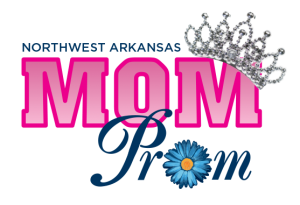 Wow, we can't believe the NWA Mom Prom is tomorrow night! Our site host was having some technical difficulties yesterday, but we have a FEW tickets left if you want to join the prom party!
If you already have your ticket, woo-hoo! We can't wait to see you!
Here are a few things to remember:
Where to park! When you arrive at the Springdale Holiday Inn, park in the main lot and head in through the entrance facing the parking lot (not the covered entrance on the side.)
Check-in! Once you're inside, you'll see the red carpet stretching toward the Prom check-in desk. We have a check-in list containing the names of people who purchased tickets. You can bring your email ticket purchase confirmation with you, but don't worry about it if you forget. We'll have a record of your purchase. Sponsors will check in at the Sponsor/VIP check-in desk.
Food! We'll have appetizers and desserts at Mom Prom, but, if you're starving, you may want to eat dinner before you come. You'll need energy for all that dancing. 🙂

Raffle packages! Don't forget to check out the raffle tables at the Prom. We have 8 themed packages of items, and one of those package is a new Maytag washer and dryer from Metro Appliances & More!! Raffle tickets are only two dollars each and you can buy extras at the event, if you like. Throw as many tickets as you want into the various buckets to increase your chances of winning the packages you like best. (Raffle money goes to a local charity called Laundry Love.) We'll announce raffle package winners starting at 9:30 p.m., and you'll need to be there to get your prize so you can take it home.
Cash or not?! Should you bring money with you? Yes, bring some money in case you want any of the following: extra raffle tickets for the amazing prizes (see above); a drink from the cash bar; or a super cute Mom Prom t-shirt for $15. We can take credit/debit cards and cash but not checks.
Free pics! You'll have your photo made at the "red carpet arrival" area and also in the photo area, sponsored by Lisa Mac Photography. Lisa and her husband Glen will be there snapping photos, and ALL photos will be available for free download after Prom. Instructions for how to download your pics will be in your swag bag. For instant photo gratification, you can also climb into the Photobooth sponsored by Mercy Sisters Women's Health Boutique.
Glam Squad! This year we have a "Glam Squad" at the Mom Prom to touch up your hair and make-up before you have Prom pictures made. Professional stylists from Brieshi Salon & Spa will be stationed near the Professional Photo Shoot area, so stop by and get the celebrity treatment at no charge.
Lounging! Be sure to check out the Mom Prom Lounge area and get a free pampering service from our Lounge Sponsor, Theraderm Clinical Skin Care. The Lounge is the perfect spot to take a breather from dancing and have a snack and a drink. 🙂
Swag! Pick up your free Swag Bag as you leave Mom Prom. They'll be waiting on you at the same place where you checked in. Just give the attendant your name and she'll hand you your bag. Enjoy your bags and goodies, sponsored by Pinnacle Hills Promenade Mall.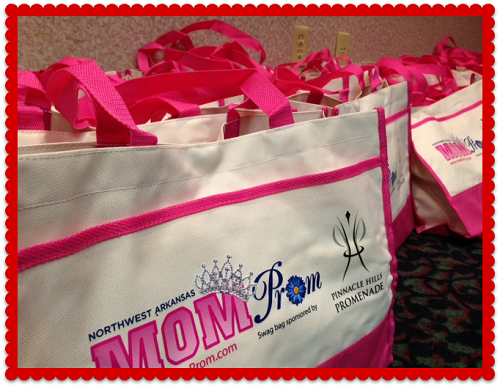 Slumber party? If you want to stretch Prom night into a slumber party at the hotel, just book a hotel room by calling 479-751-8300 and mention the Mom Prom to get a discounted room rate.
Song requests! The DJ's name is Frankie, and he takes song requests. Just jot down the name of the song on a piece of paper and put it into the song request bucket on the edge of the stage.
Tag! Socialize with us before, during and after the Mom Prom on Facebook, Twitter and Instagram. The hashtag is #nwaMomProm. Be sure to like the NWA Mom Prom page on FB by clicking here. Post a shot of you and your friends getting ready for Prom Night!
If you have questions, send us an email at mamas@nwaMotherlode.com.
See you soon!