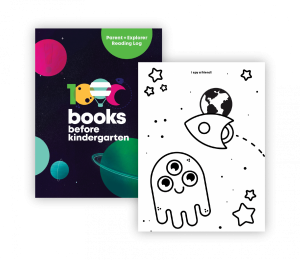 The Fayetteville Public Library has a program called 1000 Books Before Kindergarten for parents and their children from babies to age 5. There are prizes! 
The program encourages parents to read 1,000 books to their child before they enter kindergarten. 
If you read one book per night for three years, you will have read 1,095 books. If you read three books a day, you will reach 1,000 books in less than a year.
Here's how it works:
Stop by the preschool desk in the children's library to sign up. The staff will be available to answer your questions and give you a prize just for signing up.

Log every book you read in the program booklet. 

For every 100 books that you read to your child, come to the preschool desk to get a prize.  

For every 500 books your child reads, they will receive a special prize. 
Reading to children stimulates imagination, helps caregivers and children bond and forms good habits. By reading together daily, you are establishing a routine that could last a lifetime. Multiple studies have shown that children who are well read are more likely to succeed in school.