Spring Break Events Guide for 2023

It's nearly Spring Break 2023 in Northwest Arkansas, mamas. If you're looking for something to do with the kids the week of March 20-24, below is a rundown of some of the best family fun events.
We also have a great post for nearby getaways if you want to leave town for a few days. And here's a good list of NWA parks with details about amenities for each.
Click on the name of each event for more information:
Celebrate the new exhibition Diego Rivera's America with creative activities for all ages. Presented in partnership with the Latin Arts Organization of Arkansas, the week kicks off with an all-day community fiesta Pintura Fest and goes on to pack every afternoon of spring break with creative fun for your family. Create with local artists in the studios, explore Rivera's vision of America, enjoy live performances as a family, try your hand at movement challenges on our obstacle course, learn from artist demos and community partners, and more. Free, no tickets required. Drop in anytime from 1 to 4 p.m.
Looking for even more to do at the museum? Be sure to check out the exhibition and Art in Bloom during your Spring Break visit, and keep an eye out for more activities as Crystal Bridges finalizes its lineup.
Dates: March 17-26
Time: 1-4 p.m.
Location: Crystal Bridges Museum
That's not just a recycling bin – it's a world of new possibilities. Join the Amazeum in Bentonville in going green by reimagining, repurposing, and reinventing trash into art. The Amazeum will be open on Tuesday of Spring Break.
Date: March 20-24, 2023
Time: 9am-3pm Ages: 6-11.
Location: Scott Family Amazeum, Bentonville
Get the kids outside with unique, hands-on camps and experiences at Coler Kids Camp, for ages 8-12. This week-long camp is designed to get kids active and outside. Each day will be focused on learning and practicing a new outdoor skill while being immersed in nature.
Date: March 20-24
Time: 8 a.m. to noon. 
Location: Coler Preserve, Bentonville.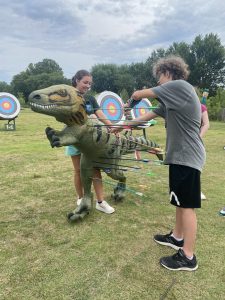 This one's for the older kids (ages 12-16)! The Quiver in Bentonville is offering individualized archery experiences alongside certified instructors. Each day will include fun new activities and awards. 
Date: March 20-24 (Looking ahead: Summer Camp 2023 dates are June 5th-9th, July 10th-14th).
Time: 1-5 p.m.
Location: The Quiver Archery Range, Bentonville
You can enjoy extended skating in the center's ice arena from noon – 8 p.m. each day.  Swimming in the pool from noon – 6 p.m. each day. Plus showings of movies at 1 PM, 3 PM, and 5 PM Monday – Friday.  Also expect:
Crafting in the lobby on Monday, 1-4 PM

Dive-in Movies at the pool on Tuesday, 1 PM and 3 PM

Inflatables in the gym on Wednesday, 1-4 PM

Runway Bike Park free loaner bikes and helmets, plus music, games & more on Thursday, 1-4 PM

Frozen Princesses in the ice rink on Friday — feel free to wear a costume. Princesses from 1-3 PM, skating 12-8 PM
A $3 wristband/person gives all-inclusive access for any activity happening that single day/evening. No pre-registration is required.  Simply enjoy all the fun activities!
Date: March 20-24
Time: See description above.
Location: The Jones Center, Springdale
Blind Cave Fish and Bats and Stalactites, Oh My! | March 21, 10:00 a.m-12:00 p.m. Learn about the ecosystems of caves in the Northwest Arkansas region and the animals and formations that you'll find there. Then create your own stalactite. Ages 6-12. 45-minute session reservations required. Register for this free program.
Caves Were Used For…What? | March 23, 10:00 a.m-12:00 p.m. Did you know that caves have been used by humans for thousands of years? Learn about some of the people from the past who used caves in the Northwest Arkansas region and what they used them for. Then, do a hands-on activity to make your own artwork inspired by ancient rock art motifs found in caves and bluff shelters around the region. Ages 6-12. 45-minute session reservations required. Register for this free program.
Location: Rogers Historical Museum
Beginning on Tuesday the 21st the education staff will have family activities scheduled every day through spring break. Air gun shooting, crafts and archery shooting.
Date: March 21-24
Time: Varies, depending on event
Location: Ozark Highlands Nature Center, Springdale
Running, swimming, tennis or just plain fun camps.
Date: March 20-24
Time: Available 7:30 a.m. to 6 p.m.
Location: Fayetteville Athletic Club, Fayetteville
Terra Studios (home of the Bluebird of Happiness) is hosting classes and art labs Wednesday through Sunday of Spring Break. Arkan-thaw Ice Shavers will be parked at Terra Studios for the classes. They serve handcrafted syrups on top of fluffy shaved ice, as well as a variety of cold and hot drinks from their coffee bar.
Date: March 22-26
Times: Vary
Location: Terra Studios, Fayetteville
The Shiloh Museum is gearing up for Spring Break Day Out for students from kindergarten to the sixth grade to experience an activity-driven day with a guided tour through the museum's exhibit hall and explore Northwest Arkansas history from prehistoric times all the way up to modern day. Students will learn about the many different types of weaving and have the opportunity to create a woven item to take home. They will also learn about log cabins while seeing first-hand the preservation work taking place on our 1850s Ritter-McDonald Log Cabin on our museum grounds. Lunch will be provided at this free event. Registration is required by clicking here.
Date: Thursday, March 23, 2023
Time: 9 a.m. to 4 p.m.
Location: Shiloh Museum of Ozark History, 118 W. Johnson Ave., Springdale
Musical theatre camps for students ages 7-9 and 10-13.
Date: March 20-24
Time: Vary
Location: Theatre Squared, Fayetteville
Bike School Bentonville is offering camps at various dates and times in March and April. Ages 7-13, beginner to advanced.
Camp Adventure will cover survival skills, hiking essentials, safety & risk management, shelter, water filtration & purification, and other fun activities related to survival in the outdoors. This camp is through Bentonville Parks and Recreation with programming provided by 37 North. 
Date: March 20-23
Times: 1-5 p.m.
Location: Bentonville Community Center
Community Creative will host various art camps, including printmaking, watercolor, painting, collage, papercraft and more. Kids 7 to 12 have the opportunity to create, construct, craft, and socialize in this week-long Spring Break art session.
Date: March 20-24
Time: 9-11:30 a.m.
Location: Community Creative Center, Fayetteville
Calling all Potterheads. Join BPL over Spring Break for a Harry Potter movie marathon. The library will be showing the movies from Tuesday to Friday, 10 a.m. to 4 p.m. Registration is not required.
Date: Tuesday, March 21-24
Time: 10 a.m. to 4 p.m. C
Location: Bentonville Public Library