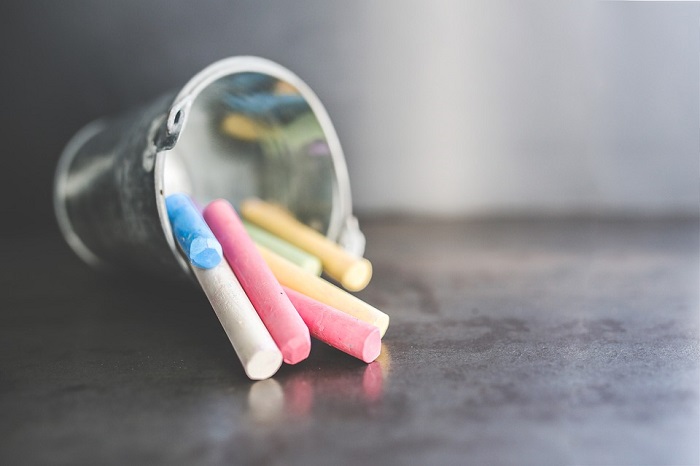 It's officially summer and time to get intentional about doing things together as a family.
If you haven't done it yet, you might want to consider making a "2019 Summer Bucket List" so the whole summer doesn't pass you by without making some memories. I hate that feeling of, "What did we even do together this summer?"
At our house, we use an actual bucket for all our summer fun ideas. If you'd like to make one, too, here's how we do it:
What you'll need:
Just buy or find a bucket (or any container of your choice!) and some large, wooden clothes pins. Using a Sharpie, write various activities you want to do over the summer on the clothes pins and then clip them around the bucket.
After you do an activity, you just toss that clothes pin into the bucket. Even if you have 15 clothes pins that read, "Sit out front in the sun with a book".
Be sure to add a few clothes pins for yourself, mama. Or just make your own bucket 🙂
Decorate your bucket with a bow, stickers, puffy paint or markers!
Here are 25 ideas for fun activities you can write on your clothes pins:
Go see a $2 movie at Malco during its Kid's Summer Film Fest, visit the area's only drive-in movie theatre on Highway 112 in Fayetteville, go to a dive-in movie at the Jones Center or Wilson Park pools, or enjoy a concert at a Gulley park.
Go skating! There are also some fun roller skating options in NWA, including Starlight Skatium in Fayetteville and Great Day Skate Place in Bentonville.
Swim at the Rogers Aquatics Center, the Jones center and many more. Click here to see our big list of swim spots and splash pads in Northwest Arkansas.  
Have a water balloon fight!
Eat ice cream! See a list of lots of great places to get ice cream in Northwest Arkansas + more ideas in our summer printable.
Check out fishing poles at the Fayetteville Public Library and catch some fun together!
Have fun at a NWA summer camp.
Kid's bowl for FREE at Fast Lane Entertainment! Bowl, play laser tag, ride Go Karts and more at Fast Lane Entertainment in Lowell or Lokomotion in Springdale. You can also try to bowl a spare at Ozark Lanes in Fayetteville, Rogers Bowling Center or Springdale Bowling Center,
Go to a Gulley Park concert series concert.
When it's super hot out, head inside to jump at HighRise in Rogers or Altitude Trampoline Park in Fayetteville.
Visit the Amazeum children's museum.
Go make art — or see it — at Crystal Bridges. You can also walk the trails for some fun art surprises along the way.
Make liquid sidewalk chalk and create a masterpiece on the driveway
Make your own bunting for your kiddo's birthday or for a summer party.
Visit your local Farmer's Market for fresh food, flowers and events.
Sign up for the summer reading program at your library + enjoy free concerts at FPL
If you have babies or toddlers, click here to see a special 'things to do in NWA' guide just for them.
Enjoy the free, family-friendly events at Lawrence Plaza's Splash Pad or the Bentonville Bark Park.
Find something fun in our Calendar of Events — or in our Fun Family Outings in Northwest Arkansas ideas!
Go to the Washington County Fair, which is held in August every year! This year, it's Aug. 20-24.