sponsored post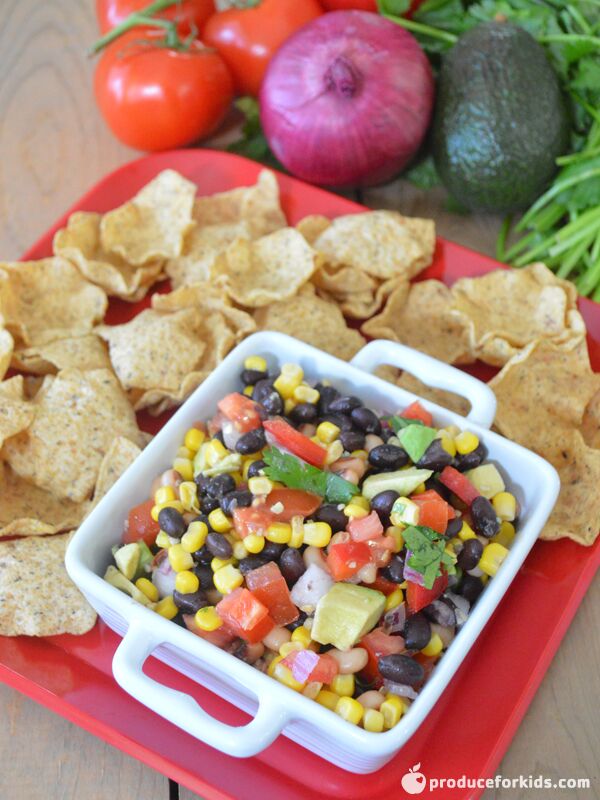 We often feel like it's a version of the movie Groundhog's Day in our kitchen because it feels like we make the same things over and over. So we love it when we find a few new recipes to add to the list of old favorites. Featured in this sponsored post is a recipe for a great dip, a wrap and a sweet snack, too!
We found this great recipe for Cowboy Caviar on the Produce for Kids website, which provides easy, fun recipes and encourages healthy eating. Through partnerships with produce and grocery stores, the organization has also donated more than $6.4 million to charities that benefit kids and families. (Since 2015, Produce for Kids has been donating to the Feeding America charity.)
The recipe below sneaks in plenty of healthy veggies in this dip that can double as a party food or a before-dinner appetizer.
Ingredients:
1 (15 oz.)

 

can

 

no-salt-added corn

,

 

drained, rinsed

1 (15 oz.)

 

can

 

low-sodium black-eyed peas

,

 

drained, rinsed

1 (15 oz.)

 

can

 

low-sodium black beans

,

 

drained, rinsed

1

 

large

 

Red Sun Farms® tomato on the vine

,

 

chopped

1

 

Red Sun Farms® red bell pepper

,

 

chopped

1

 

Avocados From Mexico avocado

,

 

chopped

1/2

 

small

 

red onion

,

 

chopped

1/3

 

cup

 

chopped cilantro

2

 

tablespoons

 

lime juice

2

 

tablespoons

 

red wine vinegar

2

 

tablespoons

 

olive oil

2

 

cloves

 

garlic

,

 

minced
Directions:
Mix corn, black-eyed peas, black beans, tomato, pepper, avocado, onion, cilantro, lime juice, red wine vinegar, oil and garlic in large bowl.

Serve with chips, pita or veggies for dipping or over a salad, chicken or fish.
And if you love a good wrap…

We love how quick and convenient a wrap can be, especially when we're in a hurry and don't have a ton of time to prep a meal. So we pounced on this recipe for Asian Chicken Wraps, which has plenty of protein and is low-calorie, too. The Eat Smart Asian Sesame Vegetable Salad Kit in this recipe makes this wrap so easy to make.
Ingredients:
1

 

package

 

Eat Smart® Asian Sesame Vegetable Salad Kit

6

 

(8-inch)

 

whole wheat wraps

1

 

cup

 

shelled edamame

2

 

green onions

,

 

sliced

12

 

ounces

 

deli sliced low-sodium chicken breast
Directions:
Prepare salad according to directions. Mix in edamame and green onions.

Lay wrap on flat surface. Top with chicken and salad. Roll up and cut in half.
And here's a no-guilt chip for snacking…
Oh, how we love a tasty chip (or more accurately… a bowl full of chips). So we're excited to have this recipe for a chip that's easy to make at home and doesn't have all the baggage that other chips have. This is a great recipe to let the kids help you with because they can spread out the apple and sweet potato slices on a baking sheet and then sprinkle them with sugar.
Ingredients:
1

 

teaspoon

 

sugar

1

 

teaspoon

 

cinnamon

1

 

Sage Fruit® Honeycrisp apple

,

 

thinly sliced

1

 

sweet potato

,

 

peeled, thinly sliced
Directions:
Combine sugar and cinnamon in small bowl.

Place apple and sweet potato slices onto a parchment-lined baking sheet. Sprinkle with cinnamon sugar mixture.

Bake 20-25 minutes, or until slices are golden brown. Remove from oven and let cool. Chips will crisp as they cool.
How you can help: In Northwest Arkansas, you'll find Produce for Kids signage at area Harps stores. When you see the signs, consider buying some of the brands (shown below) which are part of the Produce for Kids program. By supporting those brands, you'll be helping this organization give back to local Feeding America food bank programs, which help thousands of people in Northwest Arkansas.