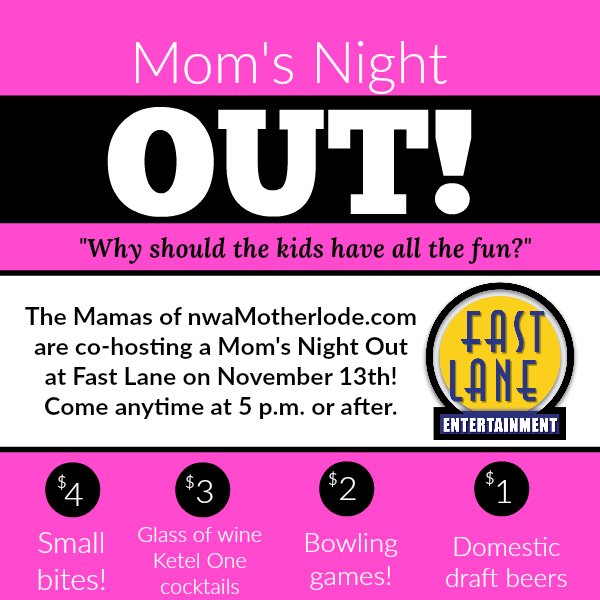 Mamas, we think it's high time for a Moms' Night Out! Who's with us?
One of our nwaMotherlode sponsors, Fast Lane Entertainment, said we could party with our mama friends at their place on Tuesday, November 13, 2018. Come anytime at 5 p.m. or after and stay as long as you want (or until closing at midnight). 
We love the idea of having our Moms' Night Out event at Fast Lane because so many times when we're there, we're busy watching our kids run around and have fun. But this time it's all about the mamas having some fun! (Have you played the new virtual reality game called Hologate at Fast Lane? It's SO much fun. Shannon and I tried it the last time we were there.)
Fast Lane has arranged some mama-friendly discounts just for our group:
$4 for small bites
$3 for a glass of wine or a ketel one cocktail
$2 for a game of bowling
$1 for a domestic draft beer
So bring some spending money and a friend or three and join us for bowling, video games, virtual reality games, snacks, drinks and more. We're SO excited for some time to unwind and laugh with our fellow mamas.
RSVP on our Moms' Night Out event page by clicking HERE. See you soon!