Editors' note: Congratulations to Storms Orthodontics, one of our website sponsors who recently earned a Mom-Approved Award in the "Best Orthodontist" category. Get info on all that Storms Orthodontics has to offer in today's featured profile.
Voted as a 2018 Mom-Approved Award Winner in the "Best Orthodontist" category 
Winner: Storms Orthodontics
Locations:
4102 N. Mall Ave., Suite 101, Fayetteville, AR 72703 

Phone: 479-521-8887

7853 Har-Ber Avenue, Springdale, AR 72762 

Phone: (479) 751-2003

740 S. Holly St., Siloam Springs, AR 72761 

Phone: 479-524-7804
Contact info: Click here to visit the Storms Orthodontics website or call the following numbers for specific office locations:
Fayetteville: (479) 521-8887
Springdale: (479) 751-2003
Siloam Springs: (479) 524-7804
You can also visit the Facebook page by clicking here.
What you might not know: Each member of the Storms Orthodontics team is a Registered Dental Assistant (RDA) and is also certified in CPR. All team members have also completed extensive infection control training. This office has an average of 14 years of experience in patient care!
Tell us about the technology that Storms Orthodontics uses:
Our practice's top priority is to provide you the highest quality orthodontic care in a fun and comfortable Arkansas Razorback-friendly environment. We utilize the latest technological advances in the industry, such as tooth-colored ceramic braces and Invisalign, along with the latest in computer technology (intraoral scanning, digital imaging and advanced computer graphics) to ensure that you receive the most effective care possible.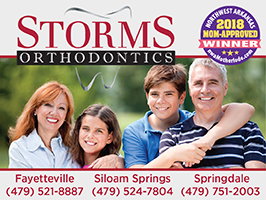 What is your treatment philosophy?
Our treatment philosophy is a very personal approach to each patient's treatment. We are not interested in performing quantity – we are committed to QUALITY!
We recognize that every patient has different needs, and we pride ourselves in the courteous service we deliver to each person who walks through our door. You will find our practice to be a unique and pleasant experience in every way as we understand the importance of choosing an office that truly values the quality of service it provides.
We encourage open communication with our patients and provide constant feedback on your treatment progress.
Is Storms Orthodontics just for teenagers?
Whether an adult, adolescent or child, Dr. Storms and his experienced staff are committed to helping you achieve a healthy, beautiful smile.
A little more info about Dr. Storms and his family:
Dr. Storms and his wife Amy are the proud parents of Will and Sarah. In addition to spending time with family and friends, Dr. Storms enjoys golf, basketball and is an avid supporter of the Arkansas Razorbacks. Go Hogs!
What local moms are saying:
"Dr. Storms and his staff is the best of the best! My twins and husband have each had such personalized service – every single visit. I could not say enough about Dr. Storms; the patience he has shown and the encouragement he has given my boys is something for a lifetime!" — Kay Spence
"I could not speak more highly of Dr. Storms and his staff. He doesn't pressure you for money or push anything on you. Genuine, caring, fun, friendly staff!" — Amanda Ogle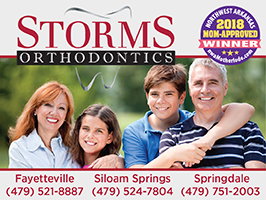 Congrats to the Storms Orthodontics staff!
Click here to visit their website.