Editors' note: Congrats to Mercy, one of our website sponsors who recently earned a Mom-Approved Award in the "Best Pediatric Clinic" category. Get info on all Mercy has to offer in today's featured profile.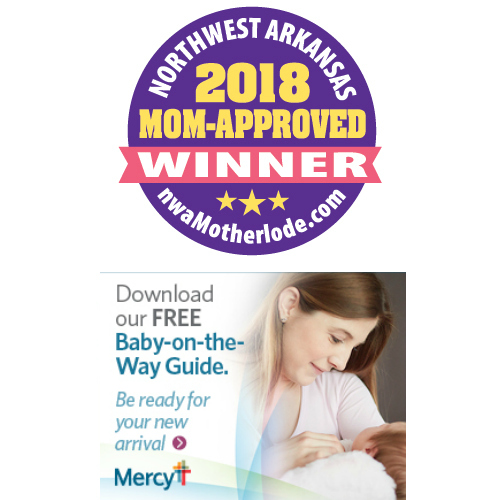 Voted as a 2018 Mom-Approved Award Winner in the
"Best Pediatric Clinic" category
Winner: Mercy
Locations for Pediatrics:

·        Mercy Clinic Pediatrics Hwy 102, 3101 SE 14th Street, Bentonville
·        Mercy Clinic Pediatrics Bella Vista, One Mercy Way, Bella Vista
·        Mercy Clinic Pediatrics Lowell, 325 S.6th Place, Lowell
·        Mercy Clinic Pediatrics, 4100 SW I Street, Bentonville
Contact: (479) 636-9234
Pediatricians and nurse practitioners:
Rachel Angulo, APN
Cassie Dyer, MD
Carl Engmann, MD
Haley Hewitt, APN
Shannon Jewell, MD
Meredith Krohn, APRN
Kayla McKane, CNP
Megan Owen, APN
James Scherer, MD
Susan Sullivan, MD
Martha Thomas, MD
Joy Hill, MD
Megan Merrigan, ANP
Thomas Youngblood, MD
Adegbenga Olayemi, MD
Kristi Goodson, MD
Judith Fetters, CPNP
Julia Adams, APN
Rachel MacLeod, MD
George Schaefer, MD
What you might not know: Mercy has what is called a "Come On In Clinic", which is designed for those times when you don't have an appointment but really need your child to see a health care provider asap. This service is only for "minor illnesses of short duration" like earache, flu, cough, diarrhea, pink eye, nasal congestion, vomiting, minor injuries, sore throat and urinary tract infections. Click HERE to read more about the Come On In clinic, which is open at the Mercy Clinic Pediatrics Highway 102 location from 7:30 a.m. to 10 a.m. and then again from 3 p.m. to 4:30 p.m. Mondays through Fridays.
 Congrats to the staff of Mercy Clinic Pediatrics across NWA!
Click here to visit the Mercy website.