Editors' note: Congratulations to Swift's Jewelry one of our website sponsors who recently earned a Mom-Approved Award in the "Best Jewelry Store" category. Get info on all that Swift's Jewelry has to offer in today's featured profile.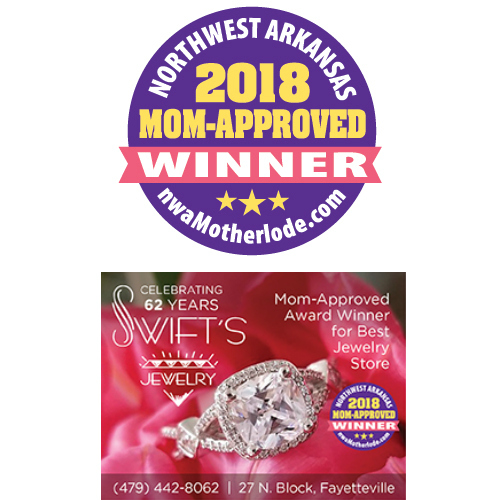 Voted as a 2018 Mom-Approved Award Winner in the
"Best Jewelry Store" category
Winner: Swift's Jewelry

Operating since: Charles and Faye Swift opened the store in 1956. 

Location: 27 N. Block St., Fayetteville, Ark.
Contact information: (479) 442-8062
Hours of operation: 10 a.m. to 5:30 p.m. Tuesday through Friday; Saturday 9 a.m. to 4 p.m. (Closed Sundays and  Mondays)
Products and services offered:
luxury jewelry and gifts
custom jewelry creation
modernizing heirloom keepsakes
watch repair
engraving
What you might not know: Even after more than 62 years in business, Swift's Jewelry is still a family-owned and operated business. When founders Charles and Faye Swift were ready to retire, they passed the shop down to their great niece and nephew, Pat and Jim Moore. Pat did the bookkeeping while Jim made jewelry and repaired clocks and watches. In 2000, they passed the shop down to their son Steve Moore. With more than 30 years of jewelry experience, Steve still runs the shop as the head jeweler, and his father, Jim, still works 40 hours a week on watches.
What local women are saying:
"Swift's is incredible! They helped my husband design and create my perfect 10/10 engagement/wedding ring. The staff is amazing. They are always so kind and friendly when I bring my ring in to get it cleaned and checked. We will continue using Swift's as our family jeweler." — Vanessa LeBow
"Swift's did a fantastic job taking my wedding ring and adding some earrings that I never wore anymore. It feels like a new ring and I love it!" — Emily Garrett
"We have been customers of Swift's Jewelry for 32 years. And we have always been happy with our service. From being treated like family, to our custom jewelry, and special purchases, they are always there for us." — Joana Thorpe