Editors' note: Congratulations to World Gym in Springdale, one of our website sponsors who recently earned a Mom-Approved Award in the "Best Place to Work Out" category. Get info on all that World Gym has to offer in today's featured profile.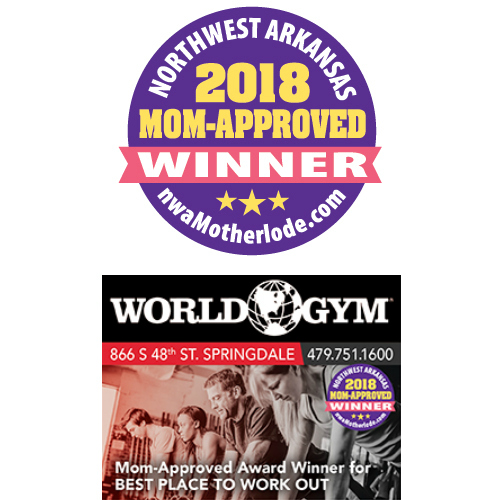 Voted as a 2018 Mom-Approved Award Winner in the
"Best Place to Work Out" category
Winner: World Gym in Springdale

Operating since: World Gym opened in xxxx. The gym is under new management by a local couple, Troy and Jessica Corder, as of September 2018.

Location: 866 S. 48th St., Springdale, Ark.
Contact information: (479) 751-1600
Hours of operation:
Sunday: 7:30 a.m. to 7 p.m.
Monday through Thursday: 4:30 a.m. to 11 p.m.
Friday: 4:30 a.m. to 9 p.m.
Saturday: 7:30 a.m. to 8 p.m.
What this gym offers:
What you might not know: World Gym offers a "Kids Fit" program weekdays from 4:30-8 p.m. and on Saturdays from 8 a.m. to 12 p.m. There is also a "Spin Room" which offers daily classes on weekdays. Click here to see an example of their class schedule. Click here to see a description of each class.
What local women are saying:
"My husband has been coming here for years… He's there when they open up at 430 am. So I decided to sign up and go with him. Staff is super friendly. Nice equipment and tanning as well." — Jennifer Miller-White
"The atmosphere is incredibly welcoming, the staff is friendly & helpful, and they have provided so many workout options! You can use the various machines, free weights, boxing equipment, or attend training classes. They have tanning beds and saunas in each of the dressing rooms, and the showers & bathrooms are always clean." — Kimberly Bell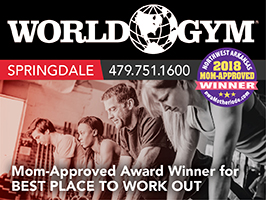 Congrats to the staff of World Gym in Springdale!
Click here to visit the gym's website.