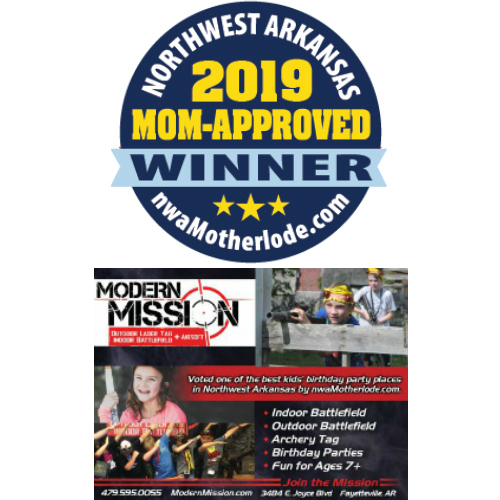 Voted as a 2019 Mom-Approved Award Winner in the "Best Kids Birthday Party Place" category

Winner: Modern Mission Outdoor Laser Tag Indoor Battlefield
Location: 3484 E. Joyce Blvd., Fayetteville, 72703
Phone: 479-595-0055
Activity options include:
Indoor laser tag
Outdoor laser tag
Outdoor airsoft
Archery games
Private parties
Summer camps
Indoor Battlefield hours of operation:
Mondays through Thursdays – Reservations only
Fridays: 3:30 p.m. to 7:30 p.m.
Saturdays: 12:30 p.m. to 7:30 p.m.
Sundays: 12: 30 p.m. to 6: 30 p.m.
(Advanced Tactical Sessions are available on Friday and Saturday evenings from 8:30p.m. to 9:30 p.m. Must be 12 or older and arrive 30 minutes early.)
Outdoor Laser Tag Open Sessions:
Mondays through Fridays — Reservations only
Saturdays: 1 p.m. to 2:30 p.m.
Sundays: 3 p.m. to 4:30 p.m.
Outdoor Airsoft Open Sessions:
Mondays through Fridays — Reservations only
Saturdays: 12pm, 2pm, and 4pm
Sundays- 2pm and 4pm
Questions about what Modern Mission is and how it works?:
Modern Mission provides fun, action-packed missions designed to improve communication, effectiveness, and leadership. The laser tag technology helps provide a safe and exciting team-building environment for either indoor or outdoor sessions.
Click here to check out the frequently asked questions and answers.
Note from Modern Mission's owners: "A big thank you to everyone who voted for Modern Mission as the best kids' birthday party in NWA! Without you we would not be where we are today. Head to our website at modernmission.com for the latest information. Join the Mission!"
What local parents are saying:
"This was our first time to Modern Mission. We were greeted so warmly by the staff when we arrived, and the staff members were so kind to the children and parents. I never had to ask for a thing! The pizza, drinks, and cupcakes were all set out when we got back from playing. It was a perfect birthday party for our son! Thanks for being so helpful and making this an easy party! Communication the week prior and during the party was exceptional!"  ~ Angie Anders
"We had our 12-year-old daughter's birthday party here today. It was amazing!!! All the kids had a blast. The dads that played did, too. Definitely will go back. Very organized and a ton of fun." ~ Doug Burns
"I absolutely will recommend Modern Mission-outdoor laser tag! My son had the best birthday party EVER according to him, his friends, and adults too. Cameron will feel like a rock star when going back to school sporting his new shirt,hat, and dog tag, and all the kids talking about his 10th birthday party! So much fun!! We will be back…soon! Oh, Travis was so great on the phone. Parker helped make the party so much fun. AWESOME!"  ~ Rhonda Mason
"Thanks Modern Mission for a great birthday party experience! My son and all his friends LOVED this party!!! Would highly recommend for anyone who likes to be outdoors and to have some fun! Will definitely be seeing you all again! " ~ Kim Dotson Fischer
Congrats to the staff of Modern Mission for being a Mom-Approved Award Winner!

Click here to visit the Modern Mission website.