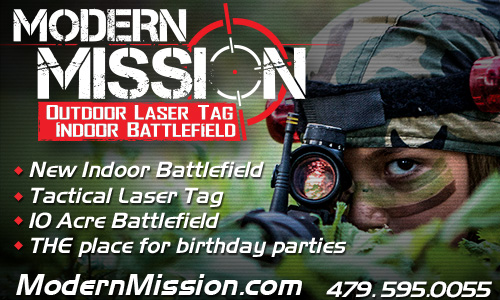 Modern Mission Outdoor Laser Tag has added something new to its name: Indoor Battlefield.
We took a little tour of Modern Mission's new indoor facility this week and have news to report back to our mama troops: THIS PLACE IS AMAZING.
Now mamas can reserve parties and events for either the inside OR the outside battlefields.
Modern Mission is one of our new Motherlode sponsors and we were excited to tour the facility and interview the owners about what Modern Mission is all about.
We loved getting to see the brand new facility up close and personal, so we could tell you more about it:
A great place for a NWA birthday party (recommended for ages 7+):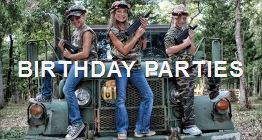 Modern Mission is NOT like paintball. There are no projectiles to worry about (so no bruising. Ouch).
It's a little like traditional laser tag, but on a much larger scale. They have realistic-looking weapons and wear protective gear. They have lightweight guns for smaller kids similar to what would be used in a video game.
What makes the place really unique is that guests are actually working against the clock to perform a mission. They have an objective (like diffusing a "bomb") and must work together to save the day. The business can customize any of the missions, based on the event, age level of the players or skill level of the group.
Owner Travis Fink noted that these missions are designed to make guests feel like they're actually INSIDE a video game. So many kids love playing shooter video games at home, but the Modern Mission events put them in the action in real life.
Travis added, "We hear moms say all the time that they want their kids to get off the couch. They love to see their kids running around and getting some exercise ."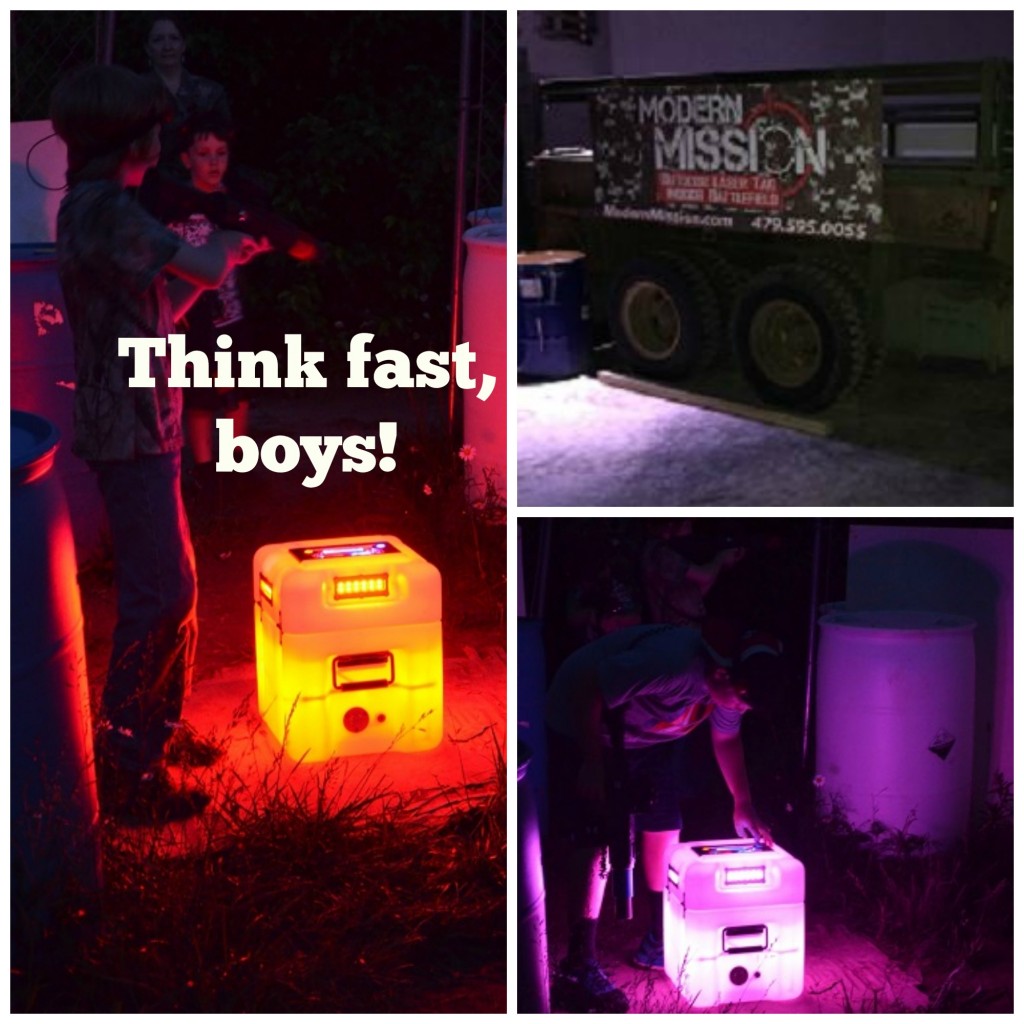 The  7-acre outdoor battlefield is also still available if your kids would prefer tackling their missions outside.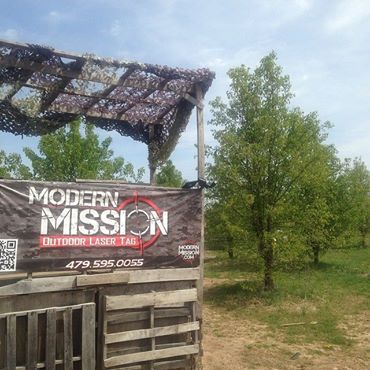 One huge plus of the huge indoor facility is that it's possible to have parties for kids who have birthdays in cold weather months. Three of our four kids have birthdays when it's usually freezing outside, so we can really appreciate a good indoor birthday party venue.
The other plus about the indoor facility is they can make the experience seem more video game authentic. There's pulsing music and sound effects like gunfire, helicopters and jet planes overhead, air raid sirens. The indoor facility also allows Modern Mission to control the lighting, which adds to the experience through pulsating lights and even a simulated lightning bolt for some of the missions.
During the tour, one of our favorite spots in the new indoor area was the huge Embassy building. Missions there might involve a hostage rescue, a VIP escort or taking the Embassy back from the bad guys.
You know what's especially cool? There's a room where parents can hang out and watch their kids in action through tv monitors. We love the idea of keeping an eye on the kids while visiting with our friends our own age at a birthday party (unless, of course, we want to get in on the Modern Mission action).
You know what else we like? Modern Mission provides cupcakes, pizza and mini melts ice cream to offer a "turn-key" party (easier on the parents). Also? With some of the birthday party packages, the birthday guests receive a custom dog tag with their name engraved. No need to buy a goodie bag that will just get tossed in the trash later that night. Genius.
Each birthday party is assigned a Field Marhsall to help get the group trained and out on the battlefield. The marshall will be on hand to help guide the fun.
YOUR next birthday party (30th? 40th?):
One of our tour guides, Paula, said she had her 40th birthday party at Modern Mission. She said the place is definitely not just for boys. Girls of all ages have a great time, she told us.
Click here to book your grown-up party.
Open play events:
If you just want to come check out the place without attending an event, you can just stop by for one of the open play events at the outdoor battlefield. Come alone or with a group. It's just $20 for two hours. Sounds like a deal to us!
Or you can try the new indoor facility during Modern Mission's Indoor Battlefield hours. Missions start on the half hour and are one hour in duration. Space is limited.
Click here to reserve your spot.
Indoor Battlefield Hours:
Monday – Wednesday Group Reservations Only
Thursday – Friday 3:30pm – 9:30pm
Saturday – 9:30am – 9:30pm
Sunday – 12:30pm – 9:30pm
*Last mission starts one hour before close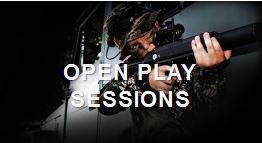 Corporate and Team events:
Modern Mission has hosted groups ranging from the Army Reserves to Tyson to church groups. These all-adult events have been used for team-building, leadership training, military training and as a work perks for finishing up a tough project or meeting sales quotas.
Travis said, "Who doesn't love a field trip? This is a great place for team-building or just plain recess."
For more information, call Modern Mission at 479-595-0055 or CLICK HERE to visit the website. Click here to book a birthday party.