Editors' note: Congrats to Shiloh Christian School, one of our website sponsors who recently earned a Mom-Approved Award in the "Best Private School" category. Get info on all that Shiloh Christian has to offer in today's featured profile.

Voted as a 2017 Mom-Approved Award Winner in the
"Best Private School" category
Winner: Shiloh Christian School

Type of school: Premier private school educating students through the lens of a Biblical world view.
Operating since: 1976

Size of student population: More than 1,000 students

Accreditation: State, national and international accreditations
Sports programs offered: Football, basketball, baseball, soccer, volleyball, cross country, track and field, golf, tennis, wrestling, trap shooting, and cheer
Campus locations: (Campus tours available upon request)

Springdale campus — Preschool through 12th grade
Located at 1707 Johnson Road in Springdale
Rogers campus — Preschool through 2nd grade
Located at 5413 Pinnacle Point Drive in Rogers
Age range: Preschool through 12th grade

How to contact:

Springdale campus — 479-756-1140
Rogers campus — 479-715-8480
Profiles of some of Shiloh's graduates:
Dr. Sonal Bhakta graduated from Shiloh in 1996 and studied biology at Southern Methodist University in Dallas, Texas. She pursued a dual Doctor of Medicine and Master of Public Health degree at the University of Arkansas at Medical Sciences and then trained in the field of internal medicine. She now works at Mercy Medical Center in Rogers, Arkansas as a hospitalist and works part-time at a clinic in Holiday Island, Arkansas.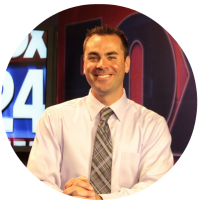 Brad Reed graduated in 2001. He attended Arkansas Tech on a Music scholarship before graduating from the University of Arkansas in 2006 with a major in Journalism and Broadcasting. In 2007, Fox launched as a news station utilizing Brad as an area reporter. When Fox News Edge was born in 2009, Brad became the lead anchor. He continues to speak to thousands of Arkansans on a nightly basis.