By Jade Stone
I hope you had the opportunity to sit down with your friends and family this Thanksgiving and truly enjoy one another.  I know we dodged a close call this holiday and will certainly say a few extra prayers of thanks for the blessing.
It started Wednesday 2 weeks ago. I was heading to Little Rock for a conference and was in Fayetteville picking up a fellow teacher on my way through when I got a strange text from my hubby. I noticed it and thought I would just check it as I pulled into her drive way.
But unfortunately, his text began with "my old unit called"….now, just a little background.  The old unit is the unit Jay was supposed to deploy with, however he was selected to go with a different medical unit that doesn't leave until next summer.
The last word we had heard on the 108th is that they would be leaving in 30 days, which was roughly 2 weeks ago at that point. So, as you can imagine, my curiosity nearly got the better of me. As I navigated the small quiet neighborhood, it was all I could do to not check the text and as I drove, he continued to text me.
I whipped into my colleague's driveway and fumbled for the phone only to read "My commander called-they want me to deploy with them".  I filled in the blanks for him with my prior knowledge of the unit, logically deducing that if that is true, he would deploy from the country in 15 days or less. He went on to say that he would be in Kuwait for a year and would return this time next year.  After I pulled my heart out of my throat, survival mode kicked in.
I called him immediately and of course my first thought was "why on earth did you text that to me?????" But, I decided that could wait. Instead I went straight to the meat of the conversation.
As it turned out, they were giving him the choice to rejoin his unit and deploy now to Kuwait or go with the new unit this summer to Afghanistan. I don't know about you but that was an absolute no-brainer. "Did you tell him yes"?? I questioned.  Bless him, he replied "no babe, I wanted to ask you first".  While I am thankful he considers my thoughts, sometimes you just have to make a move and not wait and this was one of those moments.  "You call him back right now and tell him you're in!"
We can do Kuwait; I'll pass on Afghanistan any day.  "I don't care how abrupt it is, this is a smarter move," I told him.  So Jay called the commander back that day with his decision and was told he would be contacted later in the week with the details. In spite of his hasty departure, this was great news and I found myself already making plans and contemplating the changes that I would need to make when he left. My first mistake was getting excited about it.
Certainly the ride to Little Rock was filled with plenty of conversation in light of the new development and though I was happy to be going to the conference, I couldn't help but feel that I needed to turn right around and head back home to start preparing…but, as we would soon learn, nothing is ever as it seems.
That Thursday morning was a busy one with lots of workshops to attend and people to network with so I didn't pay much attention to my phone until that afternoon, which was my second mistake.  At about 3pm, I decided I needed to check in and see how the little one was doing only to find a few more texts from Jay.  Expecting to learn about the upcoming journey and specific details, I was surprised and somewhat disappointed to learn that just this afternoon, the Commander had called him back and said "we've decided to keep you with this new unit-we are handpicking people and you are our top pick so you will not be deploying with the old unit but rather the new medical unit which will likely deploy in June or July. We do however, need you here full time in January at the base in Kansas to begin preparing for your duties."
You know, for a second, part of me was so thankful that he would be granted the holidays with us instead of leaving immediately, however the bigger part  was so disappointed by this new development. Now, (and of course who knows how long this will last) he will leave us in January to begin training, and then leave the country for an additional year beginning in June or July.
I just hate him being away from us for so long…this means he won't come back to live with us until roughly August of 2013. Jess, who is 6 now, will be almost 8 when he returns. Sadly, it doesn't end there.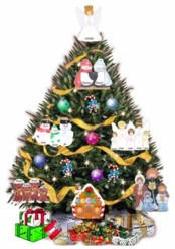 The following week was Thanksgiving and wouldn't you know it, the day before Turkey day, we got yet another call from the unit. As it turns out, the powers that be have decided that they want Jay up there in December ASAP but on no particular date. The best that we can wish for now is that they give us at least 48 hours notice but no promises there! Luckily, this arrangement will still allow him to come home for Christmas and for that I am eternally grateful.
So this year, we  will treasure the holiday season a little more than we have in the past. We will take a few extra pictures, spend a little more time as a family, and to some extent maybe even seclude ourselves from the public just to cherish the alone time we have left. No one likes to think about the "what ifs" but the fact is they constantly loom overhead. I want to be able to look back and say we did everything we wanted to do and there were absolutely no regrets in the way our time was spent together. Last but not least, we will continually keep in mind that only God knows what the future holds because you learn that change is a constant in the lives of military families.
Next time I'll have to tell you about a fabulous new show that is airing on The Weather Channel Wednesdays at 9pm called "Coast Guard Alaska"! It shows a very different aspect of military life that many of us aren't familiar with. These guys put their lives on the line daily while their families wait patiently at home for their return every night. Their commitment to saving lives is truly heroic, but there'll be more to come on that at a later date! Happy Holidays everyone!

Jade welcomes your comments here as well as any suggestions you may have for her future posts. You may also e-mail her at akajadestone@yahoo.com. To read previous Military Mama posts, CLICK HERE.