By Jade Stone
It's that time of year again when the weather's changing (preferably into fall not winter, but beggar's can't be choosers!), the sounds of football are in the air, bright greens and blues are traded for brazen shades of reds and oranges, and the welcomed chill in the air ushers in each morning.

Normally, I would say this is one of my favorite times of year. The weather during the day is wonderfully warm and yet the coolness in the evening is so refreshing.
However, this year it's a bittersweet time for us. Not only has the weather not been very cooperative to inducing that feeling fall, but also the long months the hubby has spent away training now come to a close only to have him whisked away to a foreign land filled with opportunities to actually do what he's trained so hard to do.
This is our second deployment and it's sure to be a doozy. Let me catch you up to speed.
Rewind to mid-June: I had our third miscarriage and was pretty sure our dream of a larger family had been crushed. Jay came home on emergency leave to be with me before finishing his last few weeks of training in KS.  Fortunately, everything went smoothly and we were afforded some much need time together to heal and grow together again.  He had been away since the beginning of May and I missed him dearly. While he was home, I had to attend a conference in St. Louis the last week of June and we decided that since he would have to return a day into the conference, we would just go early and make a vacation out of it. We spent even more time just enjoying what would be our last serious time together alone. Jay flew out a couple of days later and I went on with the conference.
When Jay got back to his base in Salina, he found out that he would have a pass for the 4th of July and though he couldn't leave, I could definitely come up there. We thought we wouldn't see each other past June so you can be assured we would take advantage of this opportunity. Right before I left, I went to the Dr. to see if there was any chance in the world that this week might be yet another opportunity for conception.  I just didn't feel we could give up if there was some hope left at all.
The Dr. Did an ultrasound and gravely turned to me to explain that it was time to think of alternatives because the timing was off and there were simply no eggs ready that could even be forced out medicinally. We decided that this was the answer from God that we needed. Some things are meant to be and some are not. Up until that point, we saw the previous miscarriages as "not nows" but this to us, was God's "hard no".
The Dr. told me how sorry she was and to call if I had any problems. I walked out of her office that day with a heavy heart. However, I also had a sort of peace. Though I was sad about her answer, I at least had closure to this chapter and could go on with whatever God had planned next.
Jess and I took a trip to Salina to see daddy for the 4th of July only to find out that he would get a 4 day leave just before shipping out to Ft Hood two weeks later. My heart sank as did Jay's because that was the week I was to go to the Dominican Republic for a mission trip. I knew I couldn't and shouldn't try to get out of it but you have to know my heart was broken knowing that I could be spending time with a man I may never see again.
I know it seems like I've said that several times but with the military, there is no guarantee on time and you never know from one minute to the next if there will be a "next time".  Jay spent the week with my parents and our son and had a great time which was probably good for Jess to be able to spend that time with his daddy. I felt guilty for wanting to be home while I was on the mission trip and guilty because my heart was seriously torn in two and only partially present. Great things happened that week, and looking back, it was good that I went but part of me still mourns the loss of that time with him.
That week of the trip I got terribly sick along with half of our team. It lasted about 2 days and then everyone seemed to get better, except me.  I stayed nauseous the rest of the week.  I wasn't sure how the long flight home would go and stayed in fear of feeling sick the whole time but something happened along the way that definitely made me forget about how bad I felt.

I knew that Jay was headed to Ft. Hood that day as I was headed home but neither of us thought to exchange travel plans. Well, as fate would have it, when I landed at DFW, I turned my phone on and received a couple of texts that read "Hey babe! Just boarded, call when I can", then "hey babe, just landed at DFW, will call when I get to my gate."
Please realize, I too had just landed in DFW and was now in shock…could it be that he was actually at the same place I was going to be…at the same time??? So I frantically responded, knowing that these texts took place between 11 and 1 and that he could very well be gone…no response. The plane continued to taxi to our gate when my phone rang. It was Jay. At this point, people around me are listening in and have an idea of what's going on. He says "did you mean to send me those texts"?  I responded "Yes!!  Are you at DFW right now"??  To my surprise his answer was yes.  The next few seconds were spent trying to figure out where I was in reference to him through the cheers of my fellow travel companions.
I was completely surrounded by everyone patting me on the back and telling me to run to the front. Now you must know 3 things: 1) Jay is horrible in an airport;  2)I'm in the back of the plane and 3) he only has 45 minutes before his flight leaves. At this point, I'm at the verge of tears and the anticipation is killing me. I try patiently to wait my turn feeling as though people were definitely moving more slowly today than normal and then when I finally got out the door of the plane, I still had that long corridor to walk before actually reaching the gate and wouldn't you know, I would be stuck behind the sweetest old couple and another couple discussing their lunch plans both moving side by side, blocking the passage at a snail's pace.
The church group I was with was urging me on but I just couldn't mow over these people, though, not gonna lie, the thought crossed my mind!  I had no idea where Jay was and yet I needed out of this corridor to be able to go find him and I just couldn't get there fast enough.  As soon as we reached the gate I hustled around the people standing between me and the love of my life only to see him standing right in front of me! I launched myself at him and hung on for dear life.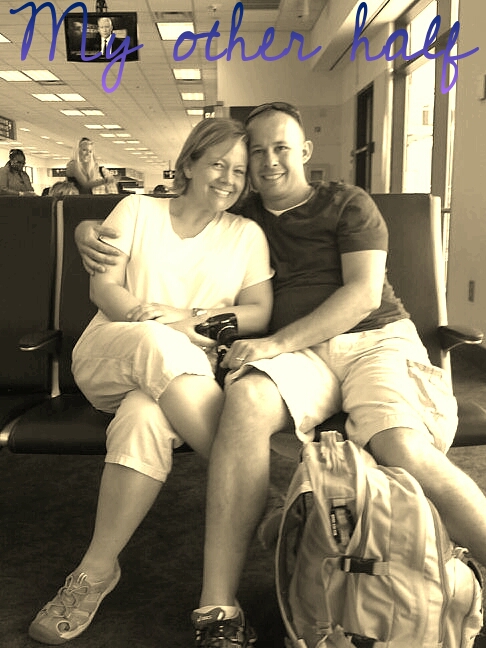 I know people were cheering, and taking pictures but I didn't hear any of it. All I could hear was his voice and the rapid beats of our hearts. It has been one of the most memorable moments of my life and I will never forget that joyous feeling of surprise, relief and disbelief.  Honestly, what are the chances?  If we had planned it, our planes would have been off scheduled and it wouldn't have worked and the even stranger thing, I was at gate A29 and he was gate A9.  So I walked him to his flight and sat for a few minutes sharing my experiences and relishing our time together. I know better than most that God knows what we need, and I believe that day, God knew I needed that.
Little did I know there was still yet more to come before the rollercoaster ride was over, but more on that next time!

Jade welcomes your comments here as well as any suggestions you may have for her future posts. You may also e-mail her at akajadestone@yahoo.com. To read previous Military Mama posts, CLICK HERE.