I can't believe I'm going to admit this, but as the daughter of an awesome Southern cook, I've never (GASP!) made cornbread. I know! Are you going to kick me out of the Iced Tea Club?
I've seen my mom make cornbread all my life, but I've never attempted it myself. Mainly because I don't tend to eat a lot of bread with meals (goes straight to the hips) and also because my Yankee husband — and our picky offspring — don't much care for cornbread.
However, when I was at my parents' house a few weeks ago, I watched mom make cornbread, which is an essential ingredient in one of my favorite recipes: turkey and dressing (we don't technically call it stuffing, because we don't typically stuff it into the turkey) and decided I needed to know the secret family recipe. By golly, no more Stouffer's around our house — next time I'd make the real thing!
So here's Shannon's family recipe for turkey (or chicken) and dressing:
Turkey & Dressing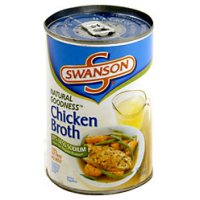 Cornbread (made from scratch, see below, or boxed)
1 1/2 cans chicken broth
1/2 onion, diced
2 celery stalks, chopped
1 can cream of chicken soup
Sage to taste
Cooked chicken or turkey (optional)
How to make cornbread (or you can buy a package at the store and prepare as directed): 1/2 cup cornmeal, 1/2 cup self-rising flour, one egg, dash of buttermilk. Stir ingredients together, adding a little extra buttermilk so it's not too dry. Add a little vegetable oil to the bottom of a small skillet. Pour mixture into skillet and cook in the oven at 450 until brown. You can make the cornbread early and save for when you're ready to make the dressing.
How to make the dressing: Crumble baked cornbread into a bowl and add the list of ingredients at top. Mix well (it will look a little like cake batter). Bake at 350 until brown around edges and cooked through in the middle.

Happy Thanksgiving to all!