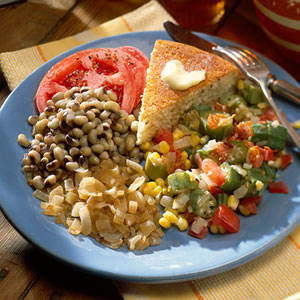 If you're new to Arkansas, you might wonder what "lucky" foods we Southerners traditionally eat on New Year's Day. Well, black-eyed peas, cabbage or some kind of "greens", hog jowls (really, just any pork will do, according to some) and cornbread. Don't even try to find a cabbage head or a can of black-eyed peas — which are supposed to represent pennies or coins and bring you good luck in the coming year — at a grocery store on New Year's Day.
Some of the Southern mamas I polled said they eat "Hoppin' John", which has black-eyed peas on the ingredients list. So if you want good luck in the new year, cook up some peas, greens and cornbread. Here are some various recipes we found that include peas (we bet you'll find one you like):
Black-eyed peas with Sausage and Barbecue Sauce (from About.com)
Ingredients:
1 pound dried black-eyed peas
1 pound link sausage, or your favorite
1 small onion, chopped
3 tablespoons brown sugar
1 tablespoon prepared mustard
1 teaspoon salt
1 cup prepared barbecue sauce
Preparation:
Rinse, prepare, soak, and cook peas in about 3 cups water, following directions on the package. Drain and reserve half of the cooking liquid. In a skillet over medium heat, brown sausage and onions; drain off excess fat. Place peas in a 3-quart casserole; add sausage and onions. Stir in reserved liquid, brown sugar, mustard, salt, and barbecue sauce. Bake at 300° for 1 to 1 1/2 hours.
Serves 6.
Hoppin' John (from Food Network.com)
Ingredients
1 tablespoon olive oil
1 large ham hock
1 cup onion, chopped
1/2 cup celery, chopped
1/2 cup green pepper, chopped
1 tablespoon chopped garlic
1 pound black-eyed peas, soaked overnight and rinsed
1 quart chicken stock
Bay leaf
1 teaspoon dry thyme leaves
Salt

, black pepper, and cayenne

3 tablespoons finely chopped green onion
3 cups steamed white rice
Directions:
Heat oil in a large soup pot, add the ham hock and sear on all sides for 4 minutes. Add the onion, celery, green pepper, and garlic, cook for 4 minutes. Add the black-eyed peas, stock, bay leaves, thyme, and seasonings. Bring to a boil, reduce the heat and simmer for 40 minutes, or until the peas are creamy and tender, stir occasionally. If the liquid evaporates, add more water or stock. Adjust seasonings, and garnish with green onions. Serve over rice.
Spicy Black-eyed Peas (from Food Network.com, Paula Deen)
Ingredients
4 slices bacon
1 medium onion, chopped
1 (16-ounce) package dried black-eyed peas, washed
1 (12-ounce) can diced tomatoes and green chiles
1 teaspoon salt
1 teaspoon chili powder
1/2 teaspoon freshly ground black pepper
3 cups water
Directions
In a large saucepan, cook the bacon until crisp. Remove the bacon, crumble, and set aside to use as a topping for the peas. Saute the onion in the bacon drippings until tender. Add the peas, diced tomatoes and green chiles, salt, chili powder, pepper and water. Cover and cook over medium heat for 45 minutes to 1 hour, or until the peas are tender. Add additional water, if necessary. Serve garnished with crumbled bacon.
Easy Black-Eyed Peas (from myrecipes.com, Southern Living)
Ingredients
2 1/2  pounds  fresh black-eyed or pink-eyed peas, shelled (3 cups)*
3  cups  water
2  large beef bouillon cubes
1  medium onion, chopped
1/2  (16-ounce) package kielbasa, sliced, browned, and drained (optional)
Preparation
Bring first 4 ingredients and, if desired, sausage to a boil in a saucepan. Reduce heat; simmer 40 minutes or until tender. Serve with Sweet Onion Relish.
*1 (16-ounce) package frozen black-eyed peas may be substituted. Reduce cooking time to 30 minutes or until tender.
Black-Eyed Pea and Cornbread Stuffing (from RachaelRayMag.com)
Ingredients:
6 slices bacon (about 6 ounces), chopped
2 shallots, finely chopped
2 ribs celery, chopped
2 carrots, chopped
3/4 teaspoon ground white pepper
1½ cups chicken broth
8 ounces thickly sliced ham, chopped
3/4 cup finely chopped mushrooms
1/3 cup finely chopped fresh sage
6 cups cornbread chunks
Three 15-ounce cans black-eyed peas, drained
Salt and black pepper
Directions:
Preheat the oven to 350°. In a large skillet, cook the bacon over medium-high heat until just crisp, about 5 minutes. Add the shallots, celery, carrots and white pepper and cook until the vegetables are tender, about 5 minutes. Transfer to a large bowl.
Stir in the chicken broth, ham, mushrooms and sage. Add the cornbread and black-eyed peas and mix until combined. Season with salt and black pepper to taste.
Spoon the stuffing into 2 buttered 3-quart casserole dishes and bake, uncovered, for 40 minutes.