We love collecting cookbooks from local churches and organizations.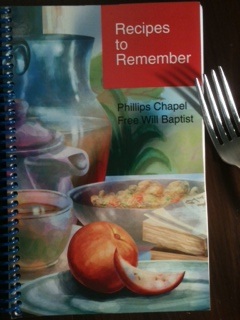 Our newest collection of recipes is from Phillips Chapel Free Will Baptist Church in Springdale called Recipes to Remember. Thanks for the gift, Christy!
It's a small, paperback volume packed with delicious recipes from ladies here in Northwest Arkansas. (We love that we recognize some of the recipes from church potlucks past, especially anything that calls for Rotel or Velveeta.) From appetizers to side dishes to main dishes and desserts, it was hard to choose just three.
The below recipes look easy, kid-friendly and inexpensive, three biggies that mean a lot to moms.
Enjoy and we hope you have a great week filled with delicious food and family you love.
Summer Salad
Ingredients:
1 Bag of Fresh Spinach
Fresh Strawberries, sliced*
Grapes
Crisp Bacon, crumbled
Walnuts or pecans
Dressing:
1/2 cup oil
1/4 cup apple cider vinegar
1 tsp Worcestershire sauce
1/2 cup sugar
Directions:
Arrange the spinach and fruits in a large bowl. Mix the dressing and let it sit overnight in the refrigerator. Just before serving, pour dressing over salad. *Mandarin oranges can be used instead of strawberries.
~ Ora Faye Chamlee
Yummy Breakfast Rolls
2 Cans Crescent Rolls
2 (8 oz) Cream Cheese, softened
1 1/4 cups Sugar
1 tsp Vanilla
1 tsp Cinnamon
1 stick Butter, melted
Directions:
Unroll 1 can crescent rolls into the bottom of a 13 x 9 pan (don't press the seals together!). Mix cream cheese, 1 cup sugar and vanilla. Spread over the rolls. Place second can of crescent rolls on top. Pour melted butter on top. Mix the 1/4 cup sugar and cinnamon together and sprinkle on top. Bake for 30 minutes at 350 degrees.
~ Danielle Henderson
Slow Cooker Lasagna
1 lb Ground Beef
1 29-oz Can Tomato Sauce
1 8-oz pkg Lasagna Noodles, uncooked
4 cups Mozzarella, shredded
1 1/2 cups Cottage Cheese
Directions:
Spray slow cooker with nonstick cooking spray. Brown ground beef in a skillet and drain. Stir in tomato sauce and mix well. Spread 1/4 of meat sauce in the bottom of slow cooker. Arrange 1/3 of uncooked noodles (break up noodles to fit) over sauce. Combine cheeses in a bowl. Spoon 1/3 of cheese over noodles. Repeat these layers twice. Top with remaining sauce. Cover and cook on low for 4 hours. If you have a large slow cooker, ad an additional 1 lb ground beef and another 15 oz can tomato sauce to the recipe.
~ Mary Williams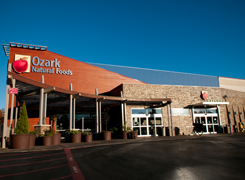 What's fresh right now at Ozark Natural Foods? Springtime vegetables! They have green, red and romaine lettuce heads; bulk spinach and spring mix; bags of spinach, green onions, mint, tarragon, oregano, mushrooms, chard, kale, parsley, cilantro, flowers, potted herbs, radishes, asparagus, and sugar snap peas.
Spring time is salad time!