Happy New Year's Eve!
In the mood for something a little different? These recipes come from a super-talented dad who (unfortunately) doesn't live in Fayetteville anymore. If you're tired of the traditional holiday fare and want to bring some unique dishes to the table this week, try these recipes from Minki Chang. They are simply delicious (Shannon has tried all of these dishes and can vouch for each!):
Seoul Spinach Salad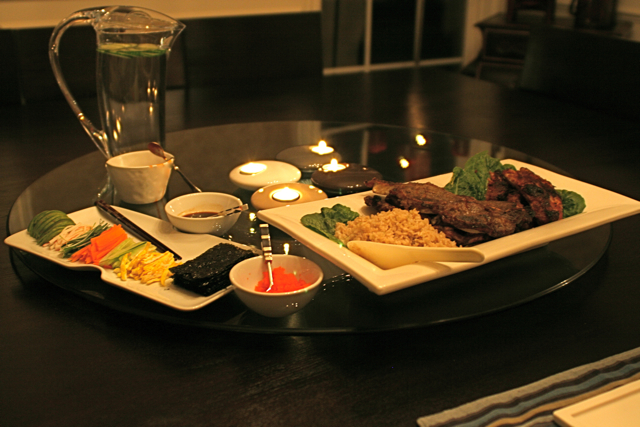 1 bag spinach (~8oz)
1/2 red onion
1 chicken breast
1 tbsp red pepper paste*
1 tsp vinegar
2 tbsp sesame oil
1 tbsp brown sugar
Salad:
Boil chicken and shred or mince. thinly slice red onion. add chicken and red onion to spinach in salad bowl.
Dressing:
Combine red pepper paste, vinegar, sesame oil, and brown sugar.
Korean BBQ Short Ribs
2-3 lbs short ribs (found at Sam's Club)
1/2 medium grated onion
1 tbsp minced garlic
1 tsp black pepper
2 tbsp brown sugar
1/3 cup soy sauce
1/3 cup sesame oil
1/3 cup Sprite or 7up
3 tbsp white wine
Combine all ingredients and add to ribs. Best if marinated overnight. grill or broil.
Korean BBQ Pork Ribs
2-3 lbs pork ribs (spareribs or back ribs)
1 tbsp minced ginger
2 tbsp minced garlic
2 tbsp sesame oil
2 tbsp red pepper paste*
1 tbsp brown sugar
Combine all ingredients and add to pork. Best if marinated overnight. Bake at 300 or grill on indirect heat until done, about 2 hours.
Hand Rolls
1 package roasted seaweed sheets*
1/2 hothouse cucumber
1 carrot
1 egg
1 scallion
1 avocado
2 sticks imitation crab meat
2 tbsp roe* (fish eggs)
1 tsp wasabi
soy sauce
Beat egg, fry in thin pancake. Julienne cucumber, carrot, scallion, egg, and crab meat into 2 inch strips. Cut avocado in thin strips. cut seaweed into approximately 2×3 inch pieces. Arrange ingredients on plate. Combine wasabi and desired amount of soy sauce into small bowl and roe into separate bowl. Each person takes a piece of seaweed, adds desired ingredients, tops with roe and dribbles wasabi/soy sauce mixture. Wrap seaweed into roll and enjoy.
Note from the mamas: Don't forget that ONF has a great deli for fast pick-up (click here to see what's cookin' today!). Healthy food and you don't have to cook! The deli also makes catering packages!