I was flipping through Parade magazine a few Sundays ago and ran across Dorie Greenspan's column called 1-2-3 Eats. She shared this recipe for strawberry lemonade that sounds SOOOO good. Since it's the perfect time of year for this kind of cool drink, I thought I'd pass it along to you as well. Hope you enjoy it!
Strawberry Lemonade

Ingredients
About 3 1/2 cups water
1 3/4 cups sugar
Strips of zest from 2 lemons
1 pint strawberries, hulled
1 1/2 cups fresh lemon juice (from 6 to 9 lemons)
Ice cubes, for serving
10 whole strawberries, for decoration
How to make it:
Step 1: Put 1 1/2 cups of the water and 1 1/2 cups of the sugar in a saucepan with the strips of zest. Bring to a boil, then simmer for 2 minutes. Remove from heat and let syrup steep 10 minutes.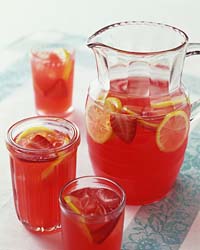 Step 2: Puree the hulled berries and remaining 1/4 cup sugar in a blender or food processor. Strain into a large pitcher and stir in the syrup (without the zest), lemon juice, and water to taste (up to 2 more cups). Chill well.
Step 3: Stir before serving. Pour over lots of ice and finish with a berry on the rim.
(Serves 10. Per serving: 150 calories, 41g carbs; no protein, fat or cholesterol.)
Mealtime Mama is a bi-weekly feature sponsored by one of our favorite lunch spots in Rogers — Cuisines Gourmet to Go. We also like them because they understand that sometimes a mama is just way too busy to cook dinner, and they offer take-home evening meal solutions that are ready to heat and eat. (Shannon and I have both eaten the food and give it two thumbs up.) Click here to see their weekly menus or call them at 479-631-2900 to ask about their take-home meals.