Ever since we heard Dr. Sanjay Gupta, who is a brain surgeon, say that one of the way he helps prevent dementia is by eating berries, we've been trying to eat them daily.
Of course, eating them raw is great but we like to mix it up a bit sometimes. So I found this recipe for Very Berry Fruit Salad on the Food Network website. The original recipe calls for raspberries but I swapped it out for blackberries instead, since I like those much more. But if you're a raspberry fan, feel free to use those, too.
We know the idea of Balsamic vinegar on fruit sounds a little weird, but trust us, it totally works. You won't taste the Balsamic but it will help keep the fruit nice and fresh. Enjoy, mamas!
Berry Fruit Salad
Ingredients:
1 pint strawberries, hulled and cut in half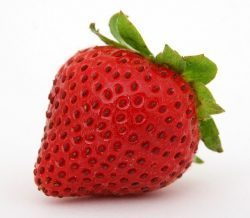 1 pint blackberries
1 pint blueberries
1 Tablespoon Balsamic vinegar
1/4 cup sugar
Directions:
In a small bowl, mix the sugar and the Balsamic vinegar. Put berries into a large bowl and then spoon the sugar and vinegar mixture over the berries. Mix thoroughly and cover the bowl. Store in refrigerator for a couple of hours. Stir again before serving.