When the weather's this cold, soup's an easy fix. It's comforting and easy to make.
We cruised around the Food Network.com site and found some great-sounding soup recipes we plan to make this month. Here are a few (click on the individual soup bowls to go see that recipe on the Food Network site):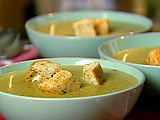 Broccoli Soup With Homemade Croutons (Recipe courtesy The Neelys)
Ingredients:
4 tablespoons butter, room temperature
1 1/2 pounds fresh broccoli
1 large onion, chopped
1 carrot, chopped
Salt and freshly ground black pepper
3 tablespoons all-purpose flour
4 cups low-sodium chicken broth
1/2 cup cream
Homemade Croutons, recipe follows
Directions: Melt 4 tablespoons butter in heavy medium pot over medium-high heat. Add broccoli, onion, carrot, salt and pepper and saute until onion is translucent, about 6 minutes. Add the flour and cook for 1 minute, until the flour reaches a blonde color. Add stock and bring to boil.
Simmer uncovered until broccoli is tender, about 15 minutes. Pour in cream. With an immersion blender, puree the soup. Add salt and pepper, to taste, and then replace the lid back on the pot. Serve hot with Homemade Croutons.
Homemade Croutons:
Day old French bread
Olive oil
Salt and freshly ground black pepper
1/4 teaspoon red pepper flakes
Preheat oven to 400 degrees F.
Cut bread into cubes and place in a large bowl. Drizzle cubes with olive oil, salt, pepper and red pepper flakes. Mix well.
Spread seasoned bread onto a sheet pan and bake for about 15 minutes.
Yield: 4 to 6 servings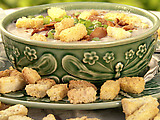 Smoky Portobello Soup (Courtesy Paula Deen)
Ingredients:
1/4 cup olive oil
1 teaspoon liquid smoke
1/2 cup chopped sweet onions
8 medium portobello mushrooms
1 1/2 tablespoons chopped garlic
1/4 cup white wine
8 cups chicken stock
1 1/4 cups white roux (1 stick of butter and 1/2 cup all-purpose flour; cook slowly over low heat)
1 quart heavy cream
Salt and pepper
Croutons, sour cream, and sliced chives, for garnish
Directions: Preheat oven to 350 degrees F.
Combine 1/4 cup of olive oil and 3 drops of liquid smoke. Toss 4 of the Portobello mushrooms in oil mixture and roast them in the oven for approximately 45 minutes. Chop mushrooms into cubes. In a large pot, saute the onions in olive oil. Once onions are sauteed, add uncooked portobello mushrooms and garlic. After mushrooms and garlic are cooked add roasted mushrooms, white wine and chicken broth and allow to simmer for 20 minutes. Remove from heat and place mixture in blender. Add roux to pot. Blend in heavy cream. Place mixture back in pot on stove and add roux. Let simmer for 20 minutes. Garnish with croutons, sour cream and sliced chives.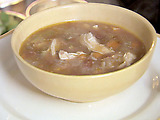 Mexican Chicken Soup (Courtesy Barefoot Contessa at Home)
Ingredients:
4 split (2 whole) chicken breasts, bone in, skin on
Good olive oil
Kosher salt and freshly ground black pepper
2 cups chopped onions (2 onions)
1 cup chopped celery (2 stalks)
2 cups chopped carrots (4 carrots)
4 large cloves garlic, chopped
2 1/2 quarts chicken stock, preferably homemade
1 (28-ounce) can whole tomatoes in puree, crushed
2 to 4 jalapeno peppers, seeded and minced
1 teaspoon ground cumin
1 teaspoon ground coriander seed
1/4 to 1/2 cup chopped fresh cilantro leaves, optional
6 (6-inch) fresh white corn tortillas
Directions: For serving: sliced avocado, sour cream, grated Cheddar cheese, and tortilla chips
Preheat the oven to 350 degrees F.
Place the chicken breasts skin side up on a sheet pan. Rub with olive oil, sprinkle with salt and pepper, and roast for 35 to 40 minutes, until done. When the chicken is cool enough to handle, discard the skin and bones, and shred the meat. Cover and set aside.
Meanwhile, heat 3 tablespoons of olive oil in a large pot or Dutch oven. Add the onions, celery, and carrots and cook over medium-low heat for 10 minutes, or until the onions start to brown. Add the garlic and cook for 30 seconds. Add the chicken stock, tomatoes with their puree, jalapenos, cumin, coriander, 1 tablespoon salt (depending on the saltiness of the chicken stock), 1 teaspoon pepper, and the cilantro, if using. Cut the tortillas in 1/2, then cut them crosswise into 1/2-inch strips and add to the soup. Bring the soup to a boil, then lower the heat and simmer for 25 minutes. Add the shredded chicken and season to taste. Serve the soup hot topped with sliced avocado, a dollop of sour cream, grated Cheddar cheese, and broken tortilla chips.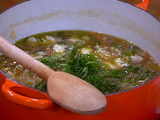 MYOTO (Make Your Own Take Out): Thai Chicken Noodle Soup (Courtesy Rachael Ray)

Ingredients:
2 tablespoons vegetable oil, 2 turns of the pan
1 medium size yellow onion, peeled, quartered and thinly sliced
3 garlic cloves, peeled and finely chopped
2 poblano or anaheim peppers, seeded and thinly sliced
Salt and freshly ground black pepper
1 cup shredded carrots, available in pouches in the produce department
6 cups, 1 1/2 quarts, chicken broth
1 1/2 pound chicken tenders cut into bite size chunks, 2 packages
2 small bundles from a 3.75 ounce package of bean thread noodles, there are usually 3 bundles in one package (recommended: Kame)
3 tablespoons cilantro leaves, chopped
15 fresh basil leaves, roughly chopped
1 lime
Directions: Heat a large heavy-bottomed soup pot with vegetable oil, 2 turns of the pan, over high heat. Once you see the oil ripple, add the sliced onion, chopped garlic and sliced peppers. Season the vegetables with salt and pepper and cook, stirring frequently, for 2 minutes. Add 1 cup shredded carrot and 6 cups chicken stock or broth. Cover with a lid and bring up to a simmer. Once simmering, add the chicken simmer 5 minutes then add noodles and simmer 5 minutes more. Remove the soup from the heat and add the cilantro, basil and the juice of 1 lime.