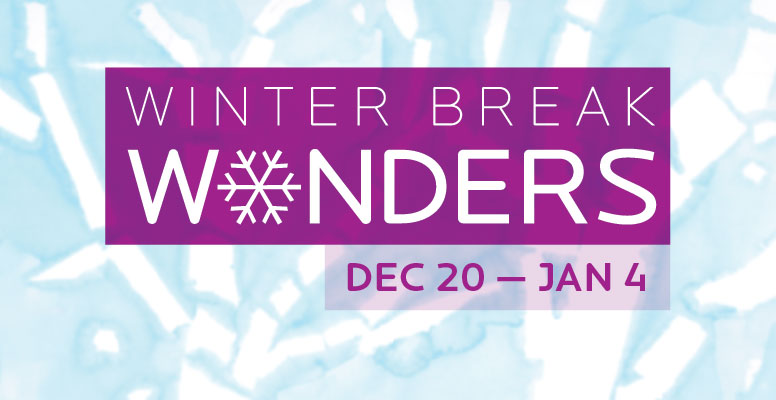 Winter Break Wonders
Date: Various dates in late December through Jan. 4
Time: Varies
Location: Crystal Bridges Museum of Art
More info: Click here
Meet the Doctor: An Introduction to Doctor Who (Springdale Public Library)
Want to know what Doctor Who is all about? Join us for an introduction to the Doctor (and some Doctor Who Mad Libs). Diehard Whovians are also welcome. Snacks will be provided. Teen activity.

Date: January 3
Time: 2 pm
More info: Register in person at the Information Desk, by telephone (479-750-8180), or join the Facebook event on www.facebook.com/springdalelibraryteens
Eagle Watch Tours
Hobbs State Park – Conservation Area offers Eagle Watches on Beaver Lake Jan. 6 through February 2015.  Tickets must be purchased in advance by phone, 479-789-5000, or at the Park's  visitor center on Hwy 12 just east of the Hwy 12/War Eagle Road intersection. 13 years and older: $10.  6-12 yrs of age: $5. Under six,  free.
Date: Jan. 6-30 (varying dates)
Time: Varies
Location: Hobbs State Park conservation area. Rocky Branch Marina, Rogers.
More info: Click here
An Afternoon of Fairytales
Bring your children for an afternoon of activities, magic and fairytales. Participants are invited to come dressed up as their favorite prince, princess or fairytale character. Tickets are $10. Proceeds will benefit Restoration Village.
Date: Jan. 17
Time: 1-4 p.m.
Location: The Grand 117, 117 W. Walnut, downtown Rogers
More info: Click here to purchase tickets
Kibbles & Books Therapy Dog Sensory Party
Join the Springdale Public Library for a special sensory program designed for children of all ages and abilities! We will offer a 30-minute story time program, followed by 30 minutes of dog-themed activity stations and time with the therapy dogs. 
Date: January 17
Time: 2 pm
Location: Springdale Public Library
More info: Contact the Library at 479-750-8180, visit in person at 405 S. Pleasant, or via the library website at www.springdalelibrary.org
Slava's Snowshow
SLAVA'S SNOWSHOW is a fusion of traditional and contemporary theatrical clowning arts. The show brilliantly creates a world of wonderment and fantasy that will transport you to a joyous dreamlike place, where a bed becomes a boat in a storm-tossed sea; a woman is wrapped in cellophane and becomes flowers in a vase; a child walks in amazement inside a bubble; Slava boards a train and then becomes the train, his chimney-pot hat billowing smoke.
The stunning finale sees a letter turned into snowflakes, and the flakes turn into a snowstorm which whirls around the auditorium, leaving you ankle-deep in snow.
Recommended for ages 8+.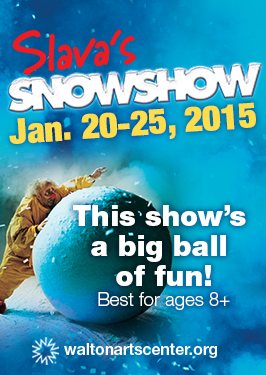 Date: Jan. 20-25
Time: Varies
Location: Walton Arts Center
More info: Click here
Writers Workshop
This workshop is sponsored by the Rogers Public Library Foundation and is free to the public. Mark Howard is an Author and Personal Coach. He has published 4 books in the last 3 years, including, The Journey to Stone Village – children's book and Your Message, Your Legacy – nonfiction summary of self publishing.
Since 2012, Mark has lead workshops and all day boot camps to teach others how share their message, story or life experience by publishing a book in print, kindle and audio. Mark helps demystify the writing and publishing process by laying out a simple step by step process to follow. He helps overcome the three major myths of publishing and delivers resources to make self publishing quick,  affordable and fun. For ages 13 and up.
Date: Jan. 31
Time: 10 a.m. to noon
Location: Rogers Public Library
More info: Click here. Seating is limited. You may also call 479-621-1152 to reserve your spot.