Get out your hand sanitizer, mamas, because we're getting down and dirty about GERMS today when we stop by Magic 107.9 for our Thursday morning chat with hosts Jennifer Irwin and Guy Westmoland. Tune in between 7:25 a.m. and 8:25 a.m. to join the discussion. Or click on the graphic below to listen to the radio live on your computer.
We'll be talking about the 12 Germiest Places most people come in contact with on a regular basis. Some of them will surprise you because they sure did surprise us! We'll also talk about the best ways to either avoid those places or to keep them sanitary to decrease the chances of getting sick.
With cold and flu season upon us, we moms tend to think more about germs and how to fight them off. But we don't want to dwell on germs so much that we make ourselves crazy or make our kids overly anxious about avoiding germs. There's a fine line to walk between being conscientious and being paranoid. Where does that line fall for you?
Below are links to articles we used while researching this on-air topic. Click each title below to read the article in full.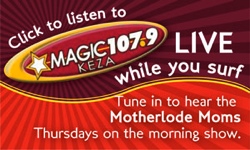 Save