Cool contest alert! Share your favorite holiday egg recipe for a chance to receive a $250 Walmart gift card!
Click here to submit your egg recipe by December 15!
The contest is sponsored by CCF brands, a local company that's one of our nwaMotherlode sponsors. They wanted us to let you guys know about this so you'd have a shot at winning the gift card. We KNOW you mamas out there have some good egg recipes. Crack open those recipe books and spill it!
Whoever submits the winning holiday egg recipe (which will be used in CCF's upcoming newsletter) will receive a little extra holiday cheer in the form of the $250 Walmart gift card.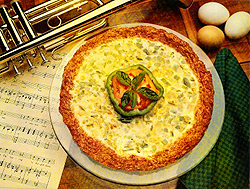 If you're not familiar with the name CCF, we know you'll be familiar with some of their brands: Great Day All Natural Eggs, Farmers Harvest Organic & Cage Free Eggs, Olde Hearth Refrigerated Bagels, Olde Hearth English Muffins, RingO's chicken rings, Great Day Foods Piggies 'n Pancakes & Farmers Market Eggs –all can be found at Wal-Mart.
The CCF website has lots of good recipes. Click here to check out the egg ones so you don't duplicate. Good luck!