If you're reading this before or between the hours of 8 a.m. and 9 a.m. on Thursday (Jan. 13),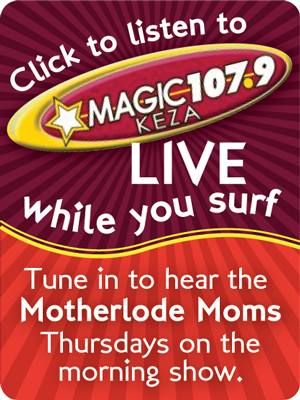 turn your radio on to Magic 107.9. The Motherlode Mamas will be stopping by the station for our usual Thursday morning chat with radio hosts Jennifer Irwin and Guy Westmoland!
This week we'll be sharing our favorite time-saving tips. We'd love to hear yours! Maybe we can all gather some good ideas so we'll have more time to spend with our kids, husbands and, dare we say it, ourselves! Nothin' wrong with a little downtime. A mama deserves it.

Click on the radio graphic on the right to listen to Magic 107.9 live on your computer. You can surf the Net while you listen to the morning show!
As we said, we'd love it if you'd call in and give us your ideas on shortcuts for getting everybody out in the morning,  in the kitchen, at the office, keeping the house clean or any other time-saving tips!
Calling in is EASY. Just dial 479-521-1079 and Guy or Jennifer will answer the phone. Then you'll be on the line with all of us and we can chat!
We'll be discussing some of our own ideas along with lots of other tips and tricks we've collected from fellow moms.
Here are a few links to articles and websites we'll reference on the radio:
Time-saving tips from Real Simple
National 'Get Organized' Month
Time-Saving tips from NWA moms
Three make-ahead recipes from local mom
E-Mealz: Easy weekly meal plans