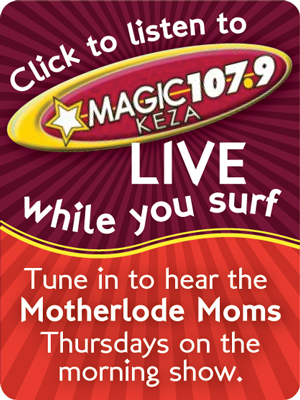 It's time for some mom-talk, so turn on your radio and join the discussion. We'll be stopping by Magic 107.9 for our Thursday morning chat-fest between 7:40 a.m. and 9 a.m., and this week we're talking turkey — as in Thanksgiving turkey. Click on the graphic at right to listen to the radio live on your computer.
We'll take a look at the top five American family traditions for Thanksgiving, and I bet we'll all be starving by the end of the hour because you can bet that the conversation will include lots of details about FOOD. What are your favorite dishes on Thanksgiving? Which foods would you rather feed to the dog under the table?
Because this holiday is all about gratitude and thankfulness, we'll also talk about what lessons we are thankful that our parents taught us, and we'll be quizzing radio hosts Guy Westmoland and Jennifer Irwin about this as well.
We'll also talk about how families figure out where to go on Thanksgiving. When there are two extended families involved, how do you decide which side of the family you're going to visit this year? Do you alternate every other year? Do you visit one grandparent for lunch and the other one for dinner? One for Thanksgiving and the other for Christmas? We know there are lots of creative arrangements out there that keep all the in-laws  happy, so we'd love to hear your ideas on that.
Here are a few links to some of the info we'll be discussing. Click each title below to read more:
A little Thanksgiving trivia
25 Classic Thanksgiving Desserts
Macy's Thanksgiving Day Parade 2010

Save