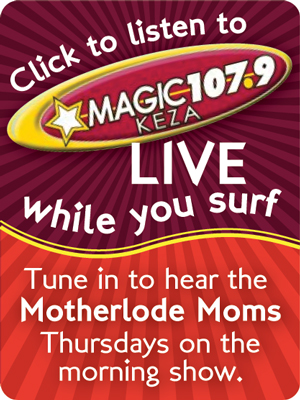 With the roads still a little iffy for us to drive to the radio station, we'll be chatting on Magic 107.9's morning show by telephone today around 7:45. We're normally at the station on Thursday mornings, but the weather changed our plans this week.
Turn on your radio or click on the graphic at right to listen to the Motherlode mamas visiting with Magic in the Morning's fabulous Jennifer Irwin.
Since Guy won't be there this morning, we'll be talking about something fun and girly: fashion! We'll focus on real, everyday fashion and tips that all mamas can use.
We'll discuss the pros and cons of body-shaping underwear, hot trends for 2011 and closet essentials for the busy mama. As always, we'd love for you to call in with your own fashion tips, trends you love — or those you wish would be banished forever!
We'll also talk about shoes and share some ideas for inexpensive ways to give your look a little lift!

Here are a few interesting links we'll reference on the show. Click on the title to read more:
Fashion Mama: 11 Hot Trends for 2011
Make Spanx your new best friend
Save