By Laura Boysen, local mama of 3
My youngest daughter didn't talk as quickly as her two older sisters. When I mentioned my concern to our pediatrician, she said that sometimes with the third child, especially girls, this can be common. I tried not to compare her to her sisters and felt sure the pediatrician was right. She didn't make a lot of noises, blow raspberries or say "uh-oh" over and over like her sisters had. In fact, my oldest two were talking in full sentences at 18 months of age.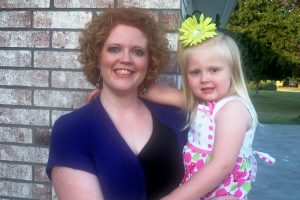 The more I tried to convince myself there wasn't a problem, the more I realized there was a problem. After another visit to the pediatrician, she referred us to the Speech Therapy department in the clinic for an evaluation. I had every intention of going to the appointment; I needed to take her to the appointment.
But somewhere between life and three kids, I never made it to any of the appointments. I kept rescheduling. One night while putting the girls to bed, it hit me. I didn't expect it, and I'm not sure where it came from but I realized my daughter was almost 2-years-old and I didn't know what her voice really sounded like. I longed for the sweet "I wuv you" to come from her mouth.
While taking the older girls to school the next morning, I mentioned my concerns to the speech teacher at our elementary school. She told me about a program called "Early Intervention Program/First Connections" that is offered through the State of Arkansas. She told me to call the Benton County Sunshine School (BCSS) and they could do a FREE evaluation.
If you have ever dealt with or know someone who has dealt with BCSS, you know how wonderful they are.  In no time I was sitting on the floor crying while they evaluated her. I knew she needed speech therapy. I'm her momma and I knew. Why did I wait so long to get her help? They confirmed my fears, and two months after her 2nd birthday we started therapy at BCSS. Our therapist quickly became part of our family. We are blessed beyond words to have her in our lives.
I had no idea that the State of Arkansas offered such a program, which is why I wanted to write this post and help spread the word to other moms. This program covers speech, physical, occupational therapy and some other areas. It's designed for children from birth to 3-years-old. Everything is free of charge and, depending on the needs of the child, other options are available after the age of 3.
No momma wants to think about their child needing special care, but it happens. With money being tight, loss of jobs and plain old fashioned fear, these concerns can get put on the back burner. Early intervention/detection is the key, as it is with anything. We are fortunate to have over 10 early intervention service providers right in Northwest Arkansas. You can find out more about the Early Intervention/First Connections program by calling 1-800-643-8258 toll-free. They will help you find a provider and get the process started for you. You can also click here to go to the website www.Arkansas.gov/dhs/ddds. Click on "First Connections" under the service directory tab.
Here's another number you can call to get more information: Benton County Sunshine School-Early Intervention/First Connections Program (479) 636-3190, ext. 111.
It's worth the peace of mind to have your child evaluated if you have concerns. Getting these issues addressed early gives our children a better start and can ultimately lead to a better future.
While I started this journey into Early Intervention solely to get help for my daughter, I've become very passionate about this program. My daughter still has some intelligibility concerns, but she is making great improvements every day. Today she is singing, saying her ABC's and driving her big sisters crazy — just as any 3-year-old little sister should do! 🙂
Being her voice made me a better person and gave me a new purpose in life. I will continue being a voice for those children who don't have their own. You can be the voice for your child as well. Whether it's a speech delay or a physical delay, you as a momma can be their voice. Don't wait like I did because the "I wuv you" sounds even more beautiful than I imagined.
Laura Boysen is currently enjoying the summer at home with her three daughters. Taryn is 9, Tinley is 7 and Tielyr is 3 1/2. She married her high school sweetheart and they will be celebrating their 12th wedding anniversary this summer. She is currently going back to school to get certified in teaching children with special needs. After working in Banking and Finance for the last 15 years, this is a huge step! Laura is on the board for the Rogers Lions Club, PTO and volunteers in the community. Her hobbies include reading, any type of puzzle, and spending time with her family and friends. She lives by two very important quotes: "It's never too late to be who you might have been" and "We can raise the kind of children who will make the world a better place".