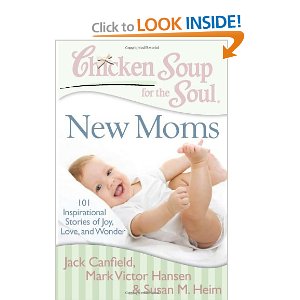 We want to offer up a big CONGRATULATIONS to two local author moms whose stories will be featured in the upcoming Chicken Soup book. Chicken Soup for the New Mom's Soul will be available in bookstores next month.
Friends Rhonda Franz and Lela Davidson were excited that they both had stories chosen to be published in the same edition. Both authors deliver light hearted and endearing stories of what happens when our best intentions meet with the reality of new motherhood. Lela's "Earth Mama Wannabe" and Rhonda's "Yoga Night" are just two of the quick reads in Chicken Soup for the Soul: New Moms, included along with dozens of others offering inspiration and advice to new moms finding their way.
"These are the things you hope to laugh about later," Lela said about her story of adventures in cloth diapering. "I was naïve and optimistic, but hopeless."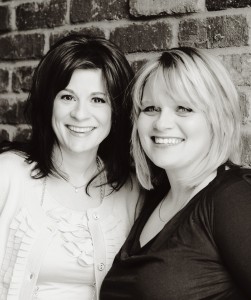 Lela is a freelance writer and Managing Editor of ParentingSquad.com and her writing is featured regularly in family and parenting magazines throughout the country. Her own collection of essays, Blacklisted from the PTA (Jupiter Press, 2011) will be released in July. She and her family have lived in Northwest Arkansas for the past seven years, and she serves on various non-profit boards, including the Rogers Public Library Foundation. We love her blog, After the Bubbly.
Rhonda has lived in Northwest Arkansas for eight years, and is involved in various church and community ministries. She has a graduate degree in special education. Her years of experience teaching other people's children could not have prepared her for life with three boys of her own. Somehow she has found time to be a Contributing Editor for ParentingSquad.com and write for various parenting magazines and other websites — including several Mealtime Mama pieces for us here at nwaMotherlode! She also blogs at Coffeehouse Mom.
"I hope women find support in these stories from those of us who have been there, and are still learning as we go," said Rhonda, who wrote about trying to get just a few minutes to herself. "May new moms be encouraged to do the best they can, seek help when they need it, and learn to laugh at themselves along the way."
The two women didn't realize they had both submitted to the same Chicken Soup edition. They only found out they would be featured in the same book after each was notified of her inclusion and subsequently shared her good fortune.
These stories help moms through difficult times and provide reassurance to those who worry they are not living up to the Supermom ideal. Since 1993, books in the Chicken Soup for the Soul series have sold over 112 million copies.
Again, congratulations, author mamas! We can't wait to snag a copy next month!