By Shannon Magsam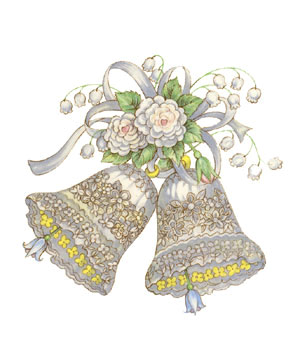 I had lunch last week with my first husband. We sat in a booth at Chick-fil-A and talked about how much time had passed since we last saw each other.
We reminisced fondly about our wedding day. It was during the Fall Festival at our elementary school. We were in the fifth grade and had decided to make our way to the "marriage booth". At the end of the ceremony, when they said "You can kiss the bride" he kissed me on the hand. The idea of kissing my cheek disgusted him.
Several decades later we find this downright hilarious. The other diners at Chick-fil-A probably thought we were a little nuts what with all the bursts of laughter. Agreed.
I met Tim, my first "husband", the first day of kindergarten. He walked up to me, took my hand and asked if I'd like to play. Awwww. We were friends all the way to the graduation cap toss.
Well, still are, I guess. We just hadn't seen each other much through the years. Now he's working in Northwest Arkansas.
After our chicken lunch the other day, Tim went home and looked for our old marriage license. He couldn't find it, but did uncover all kinds of hilarious artifacts from our elementary days, including a poem I'd written to him at age 10 (astonishing that I ever became a professional writer). Here it is, in all its creative splendor: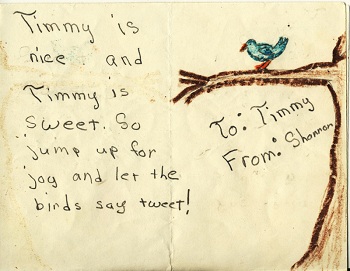 He also found the first play he ever wrote and the first one I ever starred in. It was also in the fifth grade and entitled "Magic Mall." I apparently played the critical role of Suzie Q. Doll.
We were also known for singing together — in front of our whole classroom. The group consisted of three girls and one Tim. Lucky guy.
It's good to have a friend who has known you so long. And potentially embarrassing, depending on how much more digging he does into the long-lost "80s file".