By Shannon Magsam
I still can't believe I'll have to get my kid up on Saturday morning for SCHOOL.
Ladybug was not amused when she found out one of the snow days would be made up on a Saturday. Outrage might be a good word to describe her opinion.
"You need to write a letter!" she shouted. I reminded her that she's capable of writing one.
But neither of us started a letter-writing campaign and she's still got school on Saturday, along with all the other Fayetteville School District kids (whose parents actually make them). They get out by 2:30, though! Knocking off half an hour early is gonna make it all better.
I have to admit I joked  to my husband – out of earshot of our daughter – that we'd be able to go play alone together while she was toiling away at school. I am a mean mama.
Last Saturday my husband and I celebrated our 11th anniversary. Instead of spending money on going away for the weekend (like we did last year) we had that money earmarked to pay for a colonoscopy and dermatology visits to check our moles. Sexy stuff. You know you're a grownup when ____.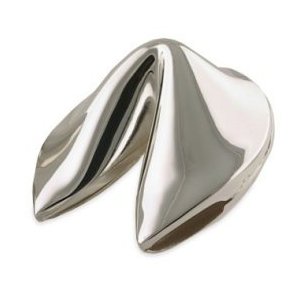 We'd agreed not to buy each other gifts, but I thought it would be fun to get a little something. I found the perfect thing at Barnes & Noble in that rack with the tiny book kits. It's a silver "Love Fortune Cookie" with a hinge so you can add a specific fortune. It came with a book of ready-made fortunes or blank ones so you can write your own. I also bought a tiny gift bag and put the "cookie" inside.
I considered giving him 11 fortunes with the words: "You will get lucky tonight" written on them. In the end, I went with a sweet sentiment. I like the idea that I can surprise him randomly with little notes now (maybe in the lunch box, too). (Click here or on the cookie if you want to buy one for your honey.)
Speaking of random, Ladybug has been really interested in organ donation lately. She wanted to know whether we're organ donors and asked us to show her where it's written on our driver's licenses.
Well, at dinner last night she piped up with: Do they do bottom transplants? What if there was a person who got his bottom cut off in a car accident? He would need it. Where would poop come out?
Indeed. Bottoms are really necessary. I'll leave you with that deep thought.

Shannon Magsam is mom to 9-year-old Ladybug, married to Ladybug's dad, John, and co-creator of nwaMotherlode.com. To read previously published installments of Life With Ladybug, click here. Leave a comment if you're so inclined. I'd love to hear your deep thoughts!