Hold on to your pom-poms, mamas, because this giveaway is BIG. This week we're giving away FOUR tickets to see the Netflix hit show Cheer come to life on stage at the Walmart AMP in June 2022. This will be such a fun night out, especially if you have cheerleaders, dancers or gymnasts in the family. The tickets are seated (not on the lawn) so you'll have an assigned spot in a chair located a little closer to the stage.
CHEER LIVE is coming to the Walmart AMP on Wednesday, June 8, 2022. Top athletes from Navarro College and Trinity Valley Community College will "full-out" with championship routines that bring the hit Netflix series to life on stage. Gates open at 6:30 pm. Event starts at 7:30 pm.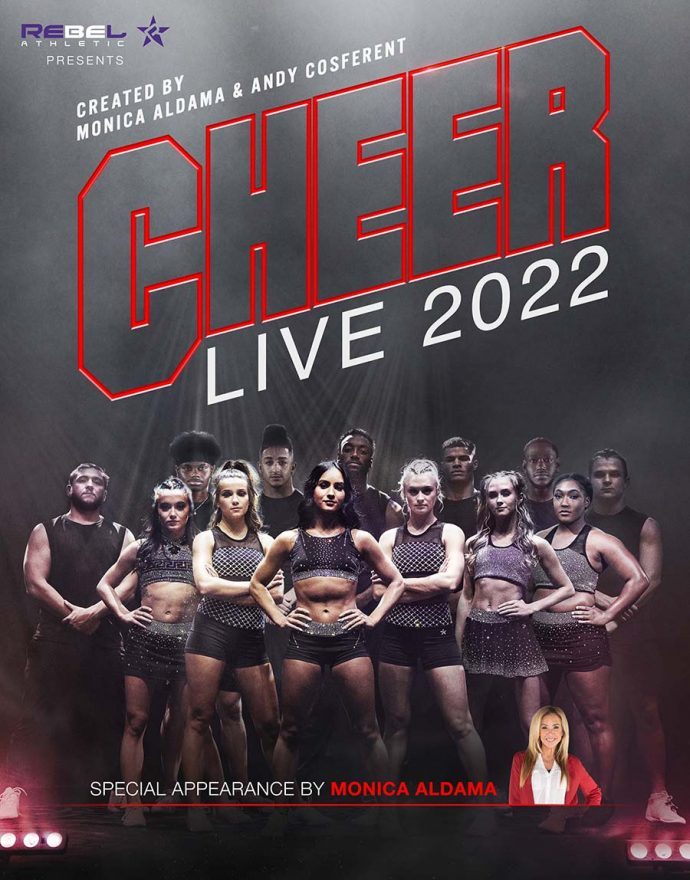 ABOUT THE SHOW:
Bringing together fan favorites from the two most successful rival cheer programs in the country, Navarro College and Trinity Valley Community College, CHEER LIVE will feature 14-time national champion coach and best-selling author, Monica Aldama alongside cheer stars such as Gabi Butler and Morgan Simianer. The full cast features Maddy Brum, Angel Rice, Dee Joseph, James Thomas, Jeron Hazelwood, Gillian Rupert, Cassadee Dunlap, and more to be announced.
The premiere athletes all make mat for an electrifying exhibition of never-before-seen stunts and stage performances that are sure to have fans on the edge of their seats. Without the restraints of score cards, judges and time limits, CHEER LIVE will transform the nail-biting sport of competitive cheerleading into a first-of-its-kind premiere athletic event staged with the epic production value of a live concert.
The Emmy award-winning docuseries "Cheer" recently debuted their highly anticipated second season on Netflix, immediately soaring to No. 1 and solidifying its place as a cultural phenomenon. Here's a quick sneak peek of the CHEER LIVE show coming to Northwest Arkansas this June. This one is sure to sell out!
HOW TO ENTER:
If you'd love to win these 4 lawn tickets to see CHEER LIVE at the Walmart AMP on June 8, 2022, scroll down to the bottom of the post and past the comments posted by other local moms. Then write a quick comment telling us about something good that has given you something to cheer about lately. Recovered from Covid? Your kid worked hard to ace a test? You're crushing it at work? Let us know what's going right in your life. 
You can also email your answer to us at giveaways@nwaMotherlode.com.
STAY CONNECTED:
Our newsletter subscribers get access to good stuff, including exclusive giveaways (like this one), information about local events, local mom interviews, recipes and more.
The nwaMotherlode newsletter is delivered straight to your inbox so you don't miss anything awesome (like this chance to win tickets!) CLICK HERE to sign up. We won't fill your inbox with info, no worries. We only send out newsletters when there's something in it for you — and we know you'll be interested in hearing about it.
TICKET INFO:
If you don't win the four tickets from this giveaway, you should know that tickets go on sale to the public at 11 am on Friday, Feb. 4, and range from $34.95 to $149.95 plus fees. Purchase tickets by calling 479.443.5600, visiting www.amptickets.com or in-person at the Walmart AMP or Walton Arts Center box offices. In-person sales are available at the AMP Box Office 10 am until 5 pm and at the Walton Arts Center Box Office 10 am until 2 pm on weekdays.