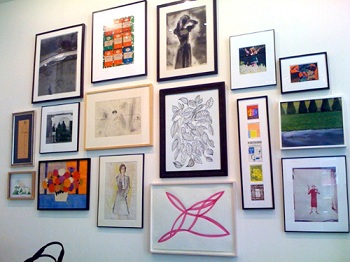 Do you ever feel confused about how to arrange art on walls? We do! We recently saw a great tutorial about how to hang with style. A mom blogger we read (finslippy) directed us to this website, Apartment Therapy, which has lots of great design ideas for small spaces.
CLICK HERE to see the article and the "how to" pictures.
Alice Bradley (the mom blogger we mentioned earlier) also introduced us to some design mavens — Kelly and Olive is their business — who do everything via the internet. You send pics of the rooms that need some sprucing and they send back pictures with ideas that make that room look way better. Pretty cool.  Click here to see some of their designs.
And while we're at it, here's another blog about DIY stuff around the house (and outside it, too!). Very popular blogger who's also a young mom. CLICK HERE to visit YoungHouseLove.com.