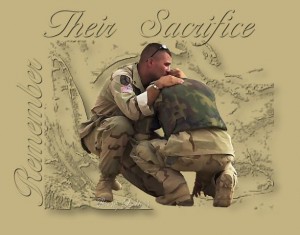 By Jade Stone

As we begin making plans for the upcoming Thanksgiving holiday, many of us have already figured out where we will be, who will be there with us, and what will be on the menu, as well as what time the shopping trip the next day might begin.
However, it's important to remember our soldiers who find themselves hundreds of miles away from their families, along with the soldiers of years past who still struggle with all the things they endured during a holiday making them so incredibly difficult to deal with.
Holidays can bring about a mixture of emotions for anyone depending on their past experiences. For some of us, they are an amazing part of our lives that we cherish always and for others, they are grave reminders of some of the most horrible times in their lives that they will forever try to forget.
For example, I never understood why my dad hated Thanksgiving. To me, it meant family, turkey, all the dessert you could eat and an overall good time to make memories, and yet, he was always in a foul mood and was absolutely miserable to be around. I had little understanding for his bad attitude and hatefulness until one day as a young adult, I happened to be watching CMT when a song came on called the "8th of November" by Big n Rich. Dad walked in and watched in awe as the pictures flashed across the screen.
At one point, a picture appeared on the screen and I realized I was looking at his image from 40 years ago in a group of young soldiers taken just days before half, if not most of the men in that picture, would perish in the fight for Hill 875. I turned to dad for clarification but he looked speechless.
When it was over, he began to explain that the song was about his unit with the 173rd  in Vietnam, and the 8th of November was the day one of the bloodiest battles took place in Vietnam called "The Battle at Dak To". Not long after that battle, came the battle for Hill 875, which ended on November 24th, 1967, when our American soldiers finally took the hill and defeated the North Vietnamese.
He went on to explain that after they reached the summit, soldiers were wandering through the carnage, shell shocked amidst the smoke trying to understand what had just transpired, while others cried out mourning the loss of so many brothers. Then, through the stench of burning flesh, and smoke, helicopters could be heard on the horizon carrying a group of insensitive reporters followed by another very strange delivery. As if the scene were not bizarre enough, as the helicopters landed, a strange smell wafted through the already macabre scene-it was the smell of turkey.  The US government found it appropriate to send a Thanksgiving meal to these blood covered, war weary soldiers who wanted to do nothing but crawl in a hole and be left alone to mourn.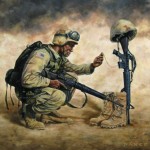 Finally, it all began to make perfect sense.  Year after year I had questioned dad's moods during this holiday and what I had just learned explained it all. He dreaded this holiday and all the smells that came with it because he had long ago associated the smell of turkey with death and that horrible day when his world turned upside down.
I will never forget how horrible I felt for ever being so insensitive, but how could I have known? Eventually, Dad overcame  these feelings and learned to replace that horrible scene for new, happier memories of friends and family. However, I'm sure it will never fully just disappear.
I treated dad differently after that. I learned to acknowledge the ever-present sadness in his eyes, even when he was trying so hard not to show it. I also learned to allow him to have a little time to himself the morning of Thanksgiving to allow him to reflect on the memories of those he lost.
All that said, while we remember these soldiers, veterans and their families, remember that this is also a time for healing and an opportunity to replace old memories with new ones. For those who have to be apart from their loved ones, this holiday will be hard to deal with but even a simple phone call from home is all it takes to make their day complete.
For those who have experienced horrible things in association with one holiday or another may need a little time. All anyone can do is be an open ear to listen and have patience to allow that person the time and space he or she needs to grieve and heal.  Just let that soldier know you are there for anything he or she needs and that you love them…Sometimes, all they need to hear is that they are loved, no matter where they've been or what their circumstances have dictated of their actions…they just need a little unconditional acceptance from the ones they care about most.
My prayers go out to all soldiers and their families, past and present, during this time. May this holiday be filled with peace, love, and hope for a future of opportunities to create happy memories together.  God bless you all.
Jade welcomes your comments here as well as any suggestions you may have for her future posts. You may also e-mail her at akajadestone@yahoo.com. To read previous Military Mama posts, CLICK HERE.