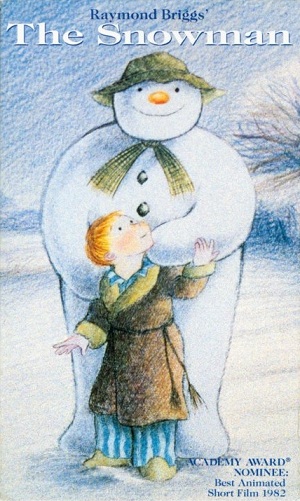 This week we're giving four tickets to a fun holiday show that combines a classic children's book with live symphony music in a one-of-a-kind concert created specifically for families. The event is called "The Snowman," and it happens at 2 p.m. on Sunday, December 6, 2015 on the Walton Arts Center stage.
ABOUT THE SHOW: During this event, you'll see a special screening of the 1982 Academy Award-nominated film called The Snowman, based on the classic children's book of the same name. The story of the movie is about a snowman who comes to life, and kids have loved this story for more than 30 years. The film itself is silent but it'll be paired with the music of the Symphony of Northwest Arkansas, under the direction of Music Director Paul Haas.
The event is perfect for kids, especially those who love animated movies and music. We're pairing the four show tickets with a gift card to our favorite pizza place on Dickson Street, U.S. Pizza.

ABOUT THE FOOD: We love U.S. Pizza. They are a tradition in Fayetteville, and we love that they're right on Dickson Street, so you can walk straight there from Walton Arts Center. The award-winning pizza, salads, sandwiches and more have a unique flavor that's not duplicated anywhere in NWA.
HOW TO ENTER: If you'd love to win these tickets and dinner gift card, throw your name in the online hat! Just click on the words "leave a comment" at the bottom of this post and tell us about one of your favorite pieces of Christmas or Holiday music. Do you love "What Child is This?" Or are you a sucker for a fast-paced "Jingle Bells"? Tell us your favorites in the comments below.
You can also email your answer to us at giveaways@nwaMotherlode.com.
HOW TO INCREASE YOUR ODDS: Help us spread the word about the giveaway by emailing your friends and family about the giveaway. We'll give you an extra chance to win for every person you tell. Just be sure to put giveaways@nwaMotherlode.com on the CC line of your note so we can give you proper credit.
(You can also earn an extra chance to win by signing up to receive the free email newsletter we send once a week. Click here to sign up.)
BE SOCIAL: You can also earn extra chances to win by commenting on our Facebook page, following us on Twitter or following us on Pinterest. If you do any of those, just mention it in your comment or email so we can give you proper credit.
If you'd rather not leave your show tickets to chance, you can go ahead and reserve them for only $8 each. Just call the Box Office at 479.443.5600 or by visit www.waltonartscenter.org.
Good luck! We'll choose a winner at the end of the week and email the lucky mom.