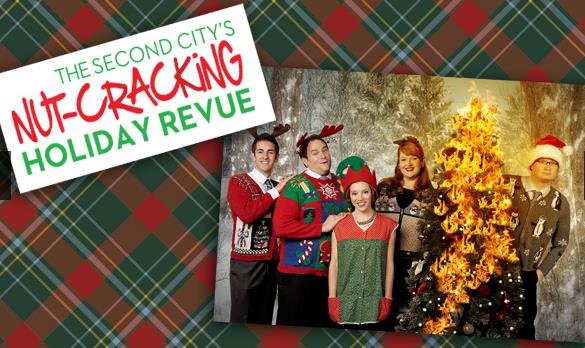 No matter what's going on in your life, it always feels a little more manageable when you can laugh a little. And you'll be laughing A LOT if you win the four tickets we're giving away to the opening night performance of this show: Second City's Nut-Cracking Revue. This famous sketch comedy troupe will be live on stage at the Walton Arts Center on Friday, December 5, 2014 at 8 p.m.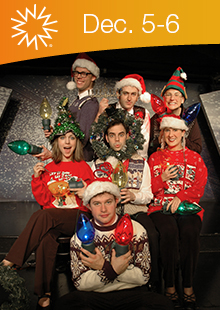 These comedy performers have been SO popular with audiences that this is their seventh time to perform at the Walton Arts Center. Part of the reason the group draws such huge crowds is because they are known as the training ground for some of the most famous names in comedy — names like John Belushi, Mike Myers, Bill Murray, Gilda Radner, John Candy, Tina Fey, Steve Carell and Stephen Colbert.
This is grown-up humor, so this show is not intended for kids. But it's perfect for a double-date with fun friends. (This ticket package is valued at more than $140!)
To make it even more fun, we're including dinner at our favorite pizza place on Dickson Street — U.S. Pizza. It's known for its award-winning pizza and their salads and sandwiches are phenomenal, too.
HOW TO ENTER: To throw your name in the online hat to win the four tickets to this show, click the words "post a comment" below and tell us something that has made you laugh recently. (Your kid's joke? Your favorite show on TV? Your dog's quirky habit?)
INCREASE YOUR ODDS OF WINNING: If you'd like to increase your odds of winning the Second City tickets, just email friends and family about the giveaway and CC us so we'll be sure to give you credit. We'll give you an extra chance to win for each person you tell. The email is giveaways@nwaMotherlode.com.
(You can also earn an extra chance to win by signing up to receive the free email newsletter we send once a week. The sign-up box is at the top right of this page.)
BE SOCIAL: You can also earn extra chances to win by commenting on our Facebook page, following us on Twitter or following us on Pinterest. If you do any of those, just mention it in your comment or email so we can give you proper credit.
If you don't want to leave your tickets up to chance, get them online now before they're gone. Click HERE to reserve your seats for the show online. (Tickets range from $15 to $35, depending on seat location.)
Looking forward to reading your comments, mamas! Remember that winners for giveaways are ALWAYS chosen at random. Watch your email inbox because we'll notify the winner next week. Good luck!