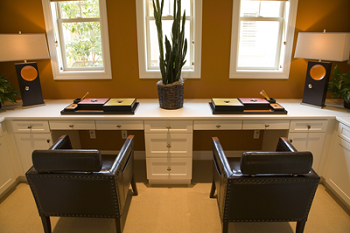 UPDATE: We have a winner. Let's all congratulate Jen Simmons!
OK, ladies, which one would it be? Is your living room overstuffed with books, toys and clutter? Do you go a little crazy when you open up the door to THAT room and wonder when you're ever going to have enough "spare" time to get the "spare room" straight? Are your kitchen cabinets a jumble of pots, pans and never-used gadgets?
We've got your back. There's a mother-daughter team in Fayetteville who would just love to tackle your worst nightmare. It would give them a little thrill to stand in the doorway and imagine exactly what they'd do to whip that room into shape.
And that's why today we're giving away an "Organize a Room In My House" package!
Laurie Malloy and her daughter, Jenna Ruhe, love to help people organize so much that they recently started a new business, Simple Spaces of Northwest Arkansas.
They're professional organizers who are also experts at home staging (if you're trying to sell) and helping people relocate (if you're downsizing, for example).
Click here to read a Q & A with Laurie and Jenna that recently ran on nwaMotherlode.
HOW TO ENTER: The Simple Spaces ladies are itching to organize one room in your house (up to four hours) and all you have to do is hit the comment button below and tell us which room you'll choose to have organized if you win.
To increase your odds: Send a note about this giveaway to your friends, and we'll give you an extra chance to win for each person you tell about this fantastic Simple Spaces package. Just be sure to put giveaways@nwaMotherlode.com on the CC line of your note so we can give you proper credit.
Click here to visit the Simple Spaces website and check out all the mother-daughter team has to offer. Like saving your sanity. Good luck winning this great room organization package!