If you're a blogger and would like to step up your game — or if you'd just like to dip a toe into the blogging world — the Social Fabric Conference is a great place to start.
And the best part is we've got 2 SoFabCon tickets to give away so you can check it out for ZERO dollars with another friend who might be interested in learning more about ruling a little corner of the blogosphere 🙂
ABOUT SoFabCon: Think of it as a retreat from the day-to-day, and a focus on the big picture. SoFabCon is a unique experience between bloggers and industry professionals. One that gives both parties a seat at the table to build true relationships and learn from one another. It's a time to have fun, be enlightened, be inspired and get to know bloggers from all over.
The idea of SoFabCon originated as a place where Collective Bias' Social Fabric community members could meet face-to-face, build relationships with clients they've worked with and continue their education as a Blogger Professional. It quickly morphed into an event for all bloggers and influencers interested in learning some new skills, meeting new people and learning more about Collective Bias and Social Fabric.
Collective Bias® is a publisher of high-quality, user-generated content that creates conversational relevance for brands at scale. Social Fabric®, is CB's proprietary community of influencers — a.k.a. bloggers who have interests and blogs about all sorts of topics.
Here's a video recap from last year, which should give you a little insight:
HOW TO ENTER: Just click on the comment button below and tell us the name of your blog (and feel free to add a link!) or what you'd like to write about if you ever started one.
Would you blog about fashion, motherhood, a specific struggle?
You may also email your answer to us at giveaways@nwaMotherlode.com.
INCREASE YOUR ODDS OF WINNING: If you'd like to increase your odds of winning these 2 conference tickets, just share! Email friends and family about the giveaway and CC us so we'll be sure to give you credit. We'll give you an extra chance to win for each person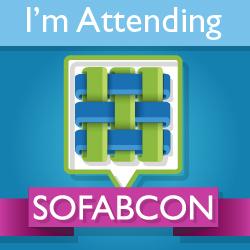 you tell. The email is giveaways@nwaMotherlode.com.
(You can also earn an extra chance to win by signing up to receive the free email newsletter we send once a week. The sign-up box is at the top right of this page.)
BE SOCIAL: You can also earn extra chances to win by commenting on our Facebook page, following us on Twitter or following us on Pinterest. If you do any of those, just mention it in your comment or email so we can give you proper credit.
TICKET INFO: If you don't want to take any chances on winning these tickets, CLICK HERE to buy one or to find out more about the event.
Good luck! We'll choose a winner on Friday and email you on Monday (AFTER Mom Prom! HA!)