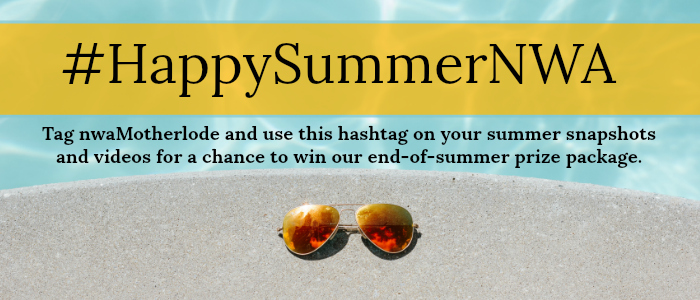 Hey mamas, let's help each other find summer fun in Northwest Arkansas — and beyond — by posting pictures and videos on social media with the same hashtag: #HappySummerNWA
Don't forget to tag us (@nwamotherlode) on Instagram, Twitter or Facebook when using the hashtag  in your social media picture/video posts all summer because we'll be keeping track! At the end of the summer, we'll randomly choose one of the #HappySummerNWA hashtag users to win a HUGE giveaway package that's worth over $800.
Of course, the more often you use the hashtag (and tag us!), the more chances you'll have to win. Use Twitter, Instagram or Facebook.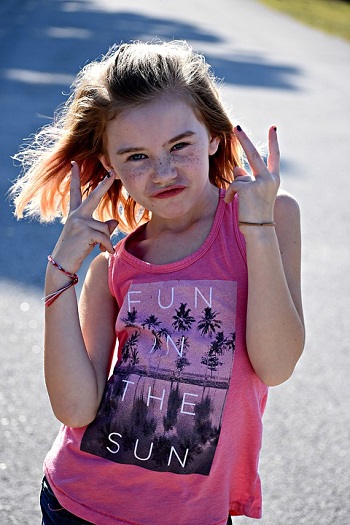 Be sure to follow along with the hashtag to find inspiration and ideas to create your own happy summer. The pictures and videos can be of all your summer fun, including trips out of town or out of the country.

Your snapshots and videos may help other moms decide they need to visit certain museums, swimming spots or other attractions around NWA and beyond.
Or maybe your #HappySummerNWA pics and videos will be of making slime — or glitter playdough. Those would also be great 🙂
We'll choose the winner in late August after the kids are back in school.
The winner of the Summer Hashtag event will receive over $800 worth of prizes:
♦ A $100 gift card to Sam's Club. We know you'll be headed there a lot this summer for beach/lake gear, cookout essentials, clothes and more, but wouldn't it also be cool to have $100 bucks to shop there for back-t0-school supplies + lunch and snack fixings? We can think of all kinds of ways to spend $100 at Sam's Club. Woo-hoo!
♦ A $100 gift card to Panera Bread. We know how much the mamas who read us love their Panera! That's a LOT of soups, salads, sandwiches, pastries and bowls full of yumminess. Did you know that the Fayetteville location just opened a drive-through over the weekend? Yep, even more convenient to use that gift card now.
♦ Yeti products from Second Elm NWA. The folks at Second Elm are being generous, as always! They have contributed a Yeti Tundra 65, two Yeti tumblers and some other Second Elm goodies that you'll love. The Tundra is a top-quality cooler that keeps your contents colder for longer, with up to 3 inches of PermaFrost™ Insulation and our ColdLock™ Gasket so you can lock it down tight. COOL!
The winner will snag this just in time for fall camping and hiking.
♦ An overnight stat at Hyatt Place Rogers/Bentonville. This is PERFECT for a staycation when you and your husband just really need to get away for a night! Did you know they recently renovated the hotel? Yep, and it looks great! It's located on West Walnut Street in Rogers, so it's close to lots of restaurants and shopping.
How's all that for a unique combination of awesome items?! Thank you, Sam's Club, Panera, Second Elm and Hyatt Place!
We can't wait to see all your snapshots and videos! Thanks for playing — and helping us all have a very #HappySummerNWA!
Save
Save