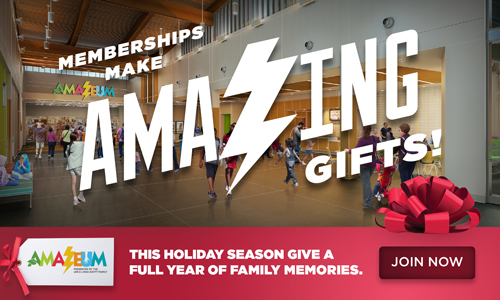 Note from the mamas: Congratulations to Christen Chamberlain, winner of the Amazeum membership!
You've heard about the Amazeum, which is opening in Northwest Arkansas in the second half of 2015.
It sounds pretty AMAZing, right?
So, how would you like to win a charter membership for your family?! Charter members will enjoy museum access before it opens to the public + lots of other perks. Sounds like fun to us!
In addition to charter member benefits, here are some other great things you'll enjoy:
Unlimited admission all year
Discounts on birthday parties, advance notice and early camp registration
Special members-only hours
10 percent store discount
Special pricing for educational programs and camps
Free or discounted admission to more than 550 science and children's museums across the country
Invitations to members-only events and exhibit previews
Amazeum memberships also make great holiday gifts. It's easy to do: When you're purchasing a membership, just check box indicating whether or not it's a gift membership (and if you'd like to receive the information or if you'd like the Amazeum to send it straight to the recipient). Click here to buy a membership for yourself — or as a gift!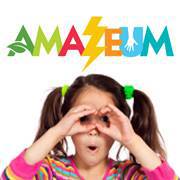 HOW TO ENTER: If you'd love to win a family membership to the Amazeum, click on the words "post a comment" below and tell us about something your kids are completely obsessed with learning about right now. Does (s)he tear apart every toy just to see how it's made — and for the fun of putting it all back together? Do they read, read, read about dinosaurs? Do they love science experiments? The Amazeum will be great for fueling every kids' imagination — and for inspiration!
INCREASE YOUR ODDS OF WINNING: If you'd like to increase your odds of winning this membership, just email friends and family about the giveaway and CC us so we'll be sure to give you credit. We'll give you an extra chance to win for each person you tell. The email is giveaways@nwaMotherlode.com.
(You can also earn an extra chance to win by signing up to receive the free email newsletter we send once a week. Click here to sign up.)
BE SOCIAL: You can also earn extra chances to win by commenting on our Facebook page, following us on Twitter or following us on Pinterest. If you do any of those, just mention it in your comment or email so we can give you proper credit.
Memberships can be purchased online at Amazeum.org, by calling 479-696-9280 x 202 or emailing membership@amazeum.org.