Missy Robertson of Ducky Dynasty fame will be at Bentonville Christian Academy's fundraiser on April 25th and we've got FOUR tickets to give away so you can make this a double date or a fun Girls' Night Out.
These tickets are $100 each, so this giveaway is HOT!
The event is called "A New Season" and is a fundraiser for Bentonville Christian Academy's new kindergarten, now enrolling for fall 2014.
BCA plans to expand the school to other grade levels each year. Right now, the school offers preschool and pre-kindergarten programs for kids 3-5.
ABOUT THE EVENT: In addition to Missy Robertson as keynote speaker, dinner will be provided by some of the very best NWA restaurants: Tusk & Trotter, Table Mesa and Tavola Trattoria.
The event will be at The Lodge at Bentonville Church of Christ located at 904 N Walton Blvd in Bentonville. To buy tickets, contact Dallas Henderson at dhenderson@bentonvillechristian.org or by calling 479.616.4880. All proceeds will go to support Bentonville Christian Academy's new kindergarten and existing pre-school.
CLICK HERE to read more about the event and Missy Robertson. CLICK HERE to buy tickets for the fundraiser if you don't want to take any chances on getting a ticket!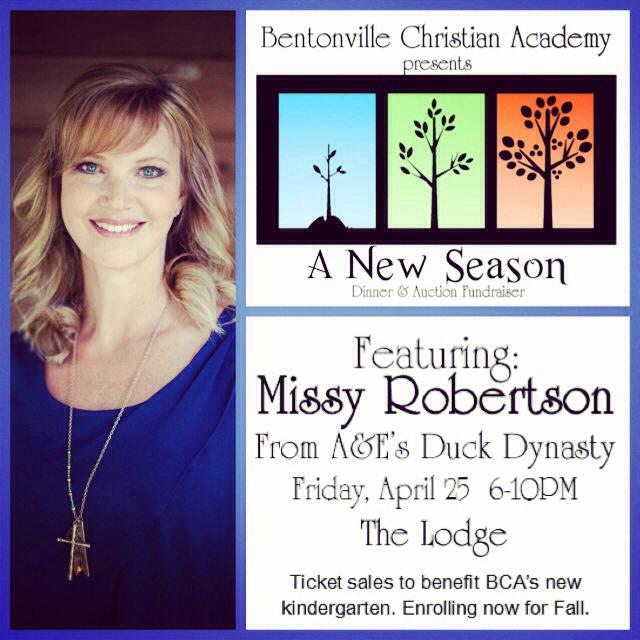 HOW TO ENTER: If you'd love to win these four fundraiser tickets, just leave a comment telling us your favorite memory from kindergarten (since this fundraiser will help BCA's existing pre-school and brand new kindergarten).
I (Shannon) remember feeling terribly shy the first day of kindergarten and how a little boy — who's still my friend to this day — came up and asked if I wanted to play in the classroom kitchen. I also remember playing Duck Duck Goose and the time my teacher stapled her own finger to the wall.
You may also email your answer to us at giveaways@nwaMotherlode.com.
INCREASE YOUR ODDS OF WINNING: If you'd like to increase your odds of winning these great tickets, just share! Email friends and family about the giveaway and CC us so we'll be sure to give you credit. We'll give you an extra chance to win for each person you tell. The email is giveaways@nwaMotherlode.com.
(You can also earn an extra chance to win by signing up to receive the free email newsletter we send once a week. The sign-up box is at the top right of this page.)
BE SOCIAL: You can also earn extra chances to win by commenting on our Facebook page, following us on Twitter or following us on Pinterest. If you do any of those, just mention it in your comment or email so we can give you proper credit.
TICKET INFO: CLICK HERE to buy tickets and to find out more about the event.
Good luck!