The Scott Family Amazeum is hosting the fifth annual Tinkerfest on Saturday, October 6, and you definitely want to add this to your family's calendar!
This one-day event — from 9 a.m. to 4 p.m. — brings together tinkerers, makers, artists, DIYers and creatives from diverse backgrounds for activities that celebrate the curious, creative and innovative spirit in everyone.
Tinkerfest features hands-on activities to promote tinkering and making created by local tinkerers, Amazeum team and regional and national museums and science centers. Students from Old High lead their popular Stomp Rocket Challenge activity again at this year's event.
Tinkerfest includes the opportunity to play and learn alongside several makers participating in the Amazeum's Maker in Residence Program.
Ryan Jenkins, a San Francisco Bay Area tinkerer, will be at Tinkerfest facilitating the creation of digital automata – small, hand-cranked, mechanical sculptures enhanced with electronics. Denver, Colorado, based artist Amanda Wilshire, who made The Monarch and The Dandelions and Sassy the Sasquatch sculptures in Bentonville, will be creating a new sculpture in collaboration with Tinkerfest guests. Eugene Sargent, Fayetteville maker and creator of unique interactive experiences in Northwest Arkansas, most recently the 30-foot dancing hog in west Fayetteville, will be facilitating projects throughout the day.
"Tinkerfest is an event that from the first time we did it, the community came out and said 'we want to be a part of this,'" said Erik Smith, Amazeum Director of Exhibits. "It's not about people coming to the Amazeum and getting information. It's about people coming to actively participate as part of a creative community. It's a big community event that people of any age and ability can participate in and learn something in the process."
Along with the opportunity to connect and create with makers, Tinkerfest features prototype exhibits and activities from partner museums across the country.
"We are fortunate to have so many partner museums participate in Tinkerfest," said Paul Stolt, Amazeum Marketing Manager. "Each year they surprise us with the level of experience they bring to a one-day event. It's like being able to sample different museums without leaving Bentonville."
The activities at Tinkerfest are family friendly and engage participants of all ages in learning science, technology, engineering, art and math (STEAM) through play.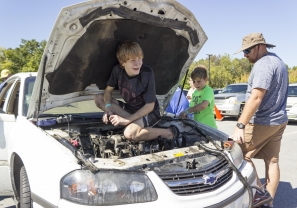 A Tinkerfest tradition continues with the popular car take apart activity facilitated by the British Iron Touring Car Club of NWA. Northwest Arkansas Community College is bringing a mobile construction lab for guests to get their hands on some tools, and the Community Creative Center rolls into Tinkerfest with the Wheel Mobile for guests to try their hand at throwing pottery.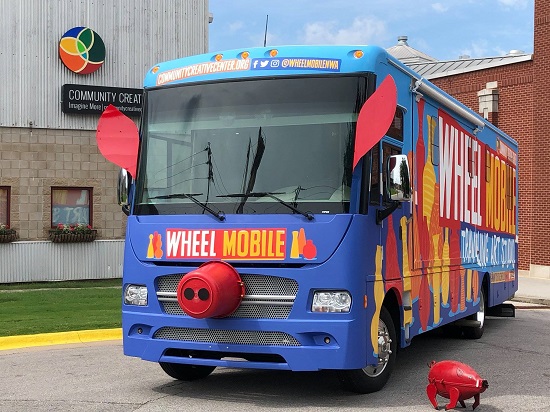 Over 30 unique activities from local and regional makers are added to the Amazeum's regular experiences on the day of Tinkerfest.
Tinkerfest brings together craftspeople, educators, artists, engineers, scientists and technologists from diverse backgrounds to interact with families, promote creativity and curiosity and support a community of makers. Whether avid tinkerer or beginner, Tinkerfest is a great event for families to play, connect, create and make.
Admission is $9.50 for adults and children ages two and older. Tinkerfest is free for Amazeum members.
Click here for more information about Tinkerfest and the Amazeum.