By Judy Bilyeu, Metro Appliances & More
For many years we've lived with white, black and stainless appliances in the kitchen. But now many of the major brands are trying to find their own niche with variations of those basic colors along with some new, innovative colors and finishes currently on the market.
Viking is an upper end brand that has always offered a collection of robust colors. Their Viking website currently offers Apple Red (shown in the photo above), Graphite Gray, Cobalt Blue and burgundy in addition to the traditional black white and stainless.
If you want an appliance so pretty it almost looks like kitchen jewelry, you should see Whirlpool's newest and most unique color — Sunset Bronze. This new color is a nod to the wildly popular Rose gold color, which is a subtle champagne shade. The magic of this color is how it balances warm and cool tones. It's warmer than silver but cooler than gold.
The Sunset Bronze finish works best when paired with light-colored cabinetry because it complements the subtle color in the appliance. But it could also work with black cabinets to offset the darkness with a warm champagne/copper color. According to the Whirlpool website, designers have found that Whirlpool Sunset Bronze works best with neutral earthy tones like browns and natural woods. However, the combination of medium or dark gray cabinetry and the Whirlpool Sunset Bronze finish looks comparatively dull, rather than cozy and inviting.
A light gray could work if it's on the warmer side, like a true "greige" (gray and beige). This is because greige would be part of the neutral color palette, which is the best choice for this finish. Here's a shot of a kitchen with Sunset Bronze appliances in place: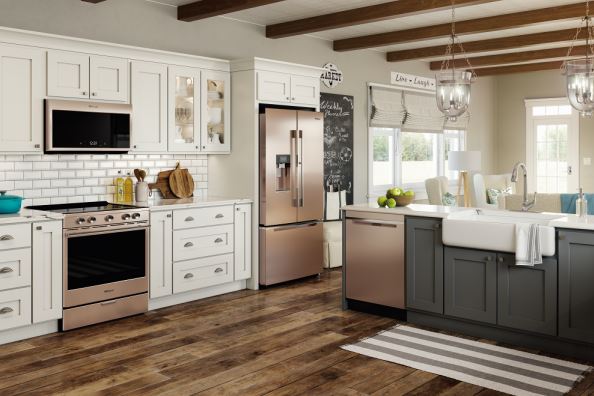 Miele, another premium appliance brand, is currently offering a finish called "Obsidian Black." It's a sleek, ultra-clean look. (In case you don't remember from geology class, obsidian is a hard, dark, glass-like volcanic rock formed by the solidification of lava without crystalization.)
Samsung has a newly created "Chef collection" which is available in a new elegant matte black stainless steel finish (that's also resistant to fingerprints). Here's a photo of a Samsung refrigerator in the black stainless steel finish:
For those who don't want a lot of color in the kitchen, even white appliances are receiving a bit of a makeover. KitchenAid and Samsung have new white products featuring more elegant silver handles instead of the traditional white.
GE has also rebranded their Café line of appliances and are offering white or black with the option to get handles in black, bronze, copper, stainless steel or white.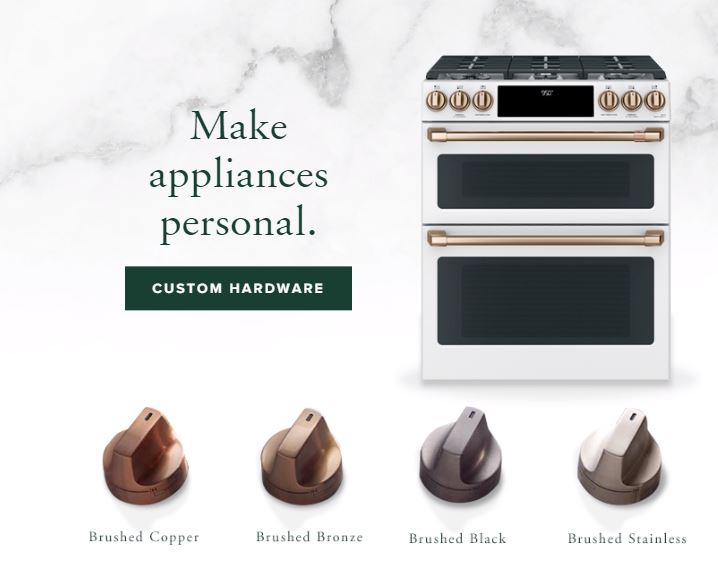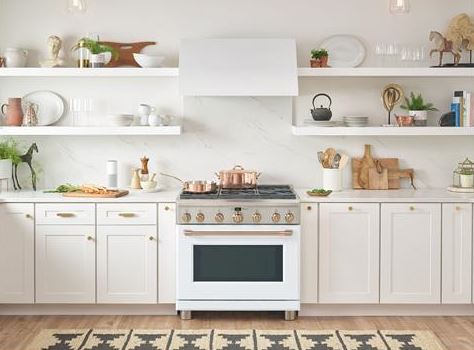 If you love the look of stainless steel but still want something a bit more unique, GE has also added a few new variations to that look: Black Stainless (high-gloss), Black Slate (Matte), Slate (Matte). (Some designers like how the slate color option adds a calming effect to a kitchen, giving it a softer look.) Here's a shot of the Black Stainless finish in the kitchen:
Appliance maker Blue Star is so serious about color that they let customers choose from more than 750 colors as well as textured finishes. You can even send the company a sample of your favorite color and have them create a custom colored appliance in order to get a truly "one of a kind" feature in your kitchen.
If you love the retro look of the past, you'll be happy to hear that everything old is cool again! A company called SMEG has an entire line of retro appliances (as well as countertop appliances like toasters, mixers and juicers) that will take you right back to the classic look of the 1950s. (They even have appliances in orange, lime green, bright yellow and pastel pink!) Here's a shot of how these retro appliances look in a new kitchen.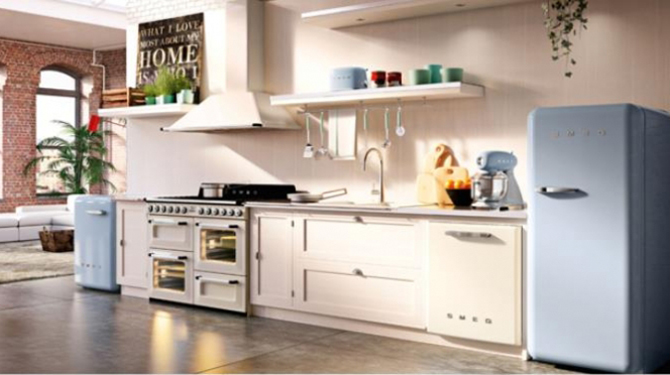 We hope these color and style options have given you some inspiration for what your kitchen could be. For more information on these styles and others, come by the Metro Appliances & More showroom in Lowell (located at 801 Metro Place) or call us at 479-750-2200.