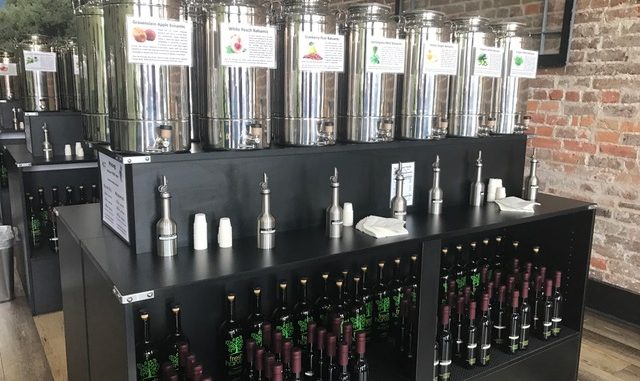 Mamas, we had so much fun when we went on a "Tasting Tour" at Fresh Harvest in Downtown Rogers. And we learned SO much! We also took home a few bottles of new olive oil as well as a couple of balsamic vinegars. We're planning to serve some fresh bread and olive oil for dipping during the Thanksgiving holiday while people wait for the turkey to be done.
Here are the highlights of what we learned during our tour of Fresh Harvest:
1. There are so many different types and flavors of olive oil and balsamic!
We were surprised when we went through the doors of Fresh Harvest to see rows and rows of gleaming silver canisters. There are several different types of olive oil on one side of the store and there's a wide variety of balsamic vinegars on the opposite side of the shop.
We highly recommend you ask for one of the "Tasting Tours" that we did while we were there. Most likely, one of the store owners — Troy Johnson and Steve Ketchersid — will be there to give you the tour and they know just about everything there is to know about olive oil, specialty oils and vinegars. There are also 250 recipes on the Fresh Harvest website that will teach you how to incorporate high quality olive oil and vinegar into your cooking.
They'll also teach you about "fused" olive oil and "infused" oil. Fusing and infusing processes allow for some  amazing taste variations. We were big fans of the Blood Orange Fused Olive Oil, which means that whole blood oranges are crushed at the time that the olives are crushed.
2. Not all olive oils are created equal.
Once you've tasted truly fresh, ultra premium olive oil, you'll never go back. There are tiny paper cups at each oil canister so you can taste the difference for yourself.
What we didn't realize is that most imported olive oils are basically just canola oil mixed with green food coloring. (Yikes!) If you want to make sure what you're buying is the real deal, look for the "Ultra Premium" certification. Here's a photo of what the Ultra Premium seal looks like. All of Fresh Harvest oils carry this designation, which is even harder to get than the USDA Organic certification.
3. Olive oils are healthy fats!
Nutritionists  stress the value of having healthy fats in your diet. There are so many times when you can substitute olive oil into your cooking instead of butter. In fact, we discovered Butter Olive Oil during our Tasting Tour, and it is AMAZING! We'll never need to put butter on popcorn again because this stuff is delicious! (Try some samples of the butter olive oil on popcorn while you're at the store. That's how we got hooked!) There's no dairy in this oil. It's vegan and made with five different non-allergenic herbs.
4. Olive oil has natural cancer-fighting agents.
One of the naturally-occurring substances in olive oil is "polyphenoyl" which is a cancer-fighting agent. Troy, one of the store owners, is a 4th-Stage cancer survivor so he knows how important it is to put wholesome foods in your body that can act as a natural medicine.
The more robust the olive oil is, the higher the level of polyphenoyl it contains. Each Fresh Harvest olive oil has an information tag which tells you not only the "crush date" and country of origin but also the chemical testing results of that particular oil.
For more information on the chemistry of olive oil and how it's graded, check out the FAQ page of the Fresh Harvest website.
5. Why "crush dates" matter.
We also learned that expiration dates on olive oil aren't as important as knowing the "crush date" of the oil you're using. Olive oil does "go bad," but you should be more interested in how fresh it is. Ideally, the crush date should be within 18 months of the time you use  it. All the oils at Fresh Harvest are made from olives that are crushed within 6 hours of being harvested. Fresh Harvest works with family-owned suppliers in both the Northern and Southern Hemispheres to ensure they have the freshest products year round.
Fresh Harvest lists the crush date of each olive oil on the information tag by the canister.
6. Olive oil is great for gifts — for foodies, cooks, housewarming gifts, new neighbor gifts, and more.
If you're a little overwhelmed by all the choices, we suggest getting one of the Fresh Harvests gift packs. It includes several bottles of some of the shop's most popular oils as well as balsamic olive.
There are also decorative glass bottles for olive oil, special bowls for microwaving popcorn (with butter olive oil!) You'll also find spice mixes, jarred olives and Patagonia honey products at Fresh Harvest.
7. It's locally-owned and managed.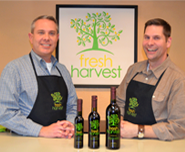 Fresh Harvest was founded by Troy and Steve 6 years ago in Eureka Springs. It has developed such a loyal customer base that people from all over Northwest Arkansas and beyond were driving to Eureka to get refills of their  favorite products. The store expanded with a second location in Downtown Rogers earlier this year.
Once you find your favorite oils and vinegars, you'll likely join hundreds of others who tote their Fresh Harvest glass bottles back to the shop for a refill. (You get a dollar off the price when you bring back your empty bottles. You also get a free bottle of olive oil after you purchase 10.) We met several people during our time at the shop who said they've been Fresh Harvest customers for years and are glad to have a new location that's a little closer to home.
Fresh Harvest is located at 211 W. Walnut in Rogers. The store is open from 10 a.m. to 6 p.m. Tuesday through Saturday. For more info, call the store at 479-877-6996 or visit them online at the Fresh Harvest website.