By Lyndi at nwafoodie.com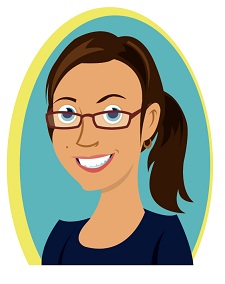 In the mornings when you are packing lunches, does your child ask for duck liver pate, grilled asparagus with hollandaise sauce, or perhaps warmed figs stuffed with mascarpone and drizzled with agave nectar? 
No? Okay, so we've established that your kiddo may not be a food-snob or a gourmand, but perhaps he or she is a foodie?
A "foodie" is someone who is open to trying new food experiences and enjoys slight changes in the average everyday food journey.
Here are three of my go-to foodie-inspired recipes that just may spark the foodie in your kids… and in you!
Happy eating!
Caprese salad for a Crowd
This is a pretty dish that introduces the purity of flavor that comes from simple ingredients: tomatoes, basil, olive oil and balsamic vinegar, and mozzarella.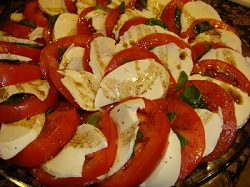 Serves 9-12
6 large tomatoes (leave at room temperature so they won't get mealy)
2 soft mozzarella balls
Basil
Salt
Pepper
Olive Oil
Balsamic Vinegar
DIRECTIONS: Slice the tomatoes into ½" thick slices.  Lightly salt and set aside.
Slice the mozzarella balls into thin slices.  The idea is to have one slice of mozzarella for each slice of tomato.
Wash the basil and tear off enough leaves so that you have one for each slice of tomato. 
Now you are going to arrange the salad: tomato, mozzarella, basil, tomato, mozzarella, basil, tomato, mozzarella, basil… continue until you run out of tomatoes.
In a small bowl, mix 2 tablespoons of olive oil and 1 teaspoon of balsamic vinegar.  Wisk and add pepper to taste.
Last step:  Drizzle the olive oil mixture so that each tomato and mozzarella receives a lick.  Let it set to soak in the goodness of the dressing.
Serve and wait for all the ooohhhhs and ahhhhhhs.
Easy, Creamy, Satisfying Shitake Mushroom Soup with Thyme
Yes, it is quickly becoming that time of year again where soup soothes the soul. Carrots can be easily substituted for the mushrooms and will add a sweetness to the soup that will delight your palate.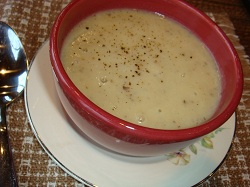 1 white onion, chopped
1 large shallot, chopped (or 2 white onions if you do not have any shallots on hand.  But then, of course you have shallots on hand, right?  They are essential!)
3 tablespoons salted butter
3 small Yukon gold potatoes, peeled and chopped
11 shitake mushrooms, coarsely chopped (or, substitute mushrooms with 6 cups of chopped carrots)
6 cups chicken broth (easy tip:  save the carcass from your rotisserie chicken dinner and boil with water to make an inexpensive broth!)
Sprig of thyme
Salt and pepper, to taste
DIRECTIONS: Heat butter in dutch oven over medium heat.
Add onions and shallots with thyme and stir lightly until soft, approximately 5 minutes.
Add mushrooms and stir.
Add potatoes with pinch of salt, approximately 5 minutes.
Add chicken broth and turn up heat to medium-high until boil.  Leave uncovered.
Once boiling, turn down heat to low and cover for 30 minutes.
Add salt and pepper to taste.  Remove thyme sprig.
To achieve the "creamy" texture of this easy, creamy, satisfying shitake mushroom soup with thyme, puree in blender. 
Baked Risotto
Do your kids love creamy, ooey gooey foods?  Risotto rice may just hit the spot!  Don't let what you've heard about risotto scare you away. This is an easy, no stirring recipe that finishes perfectly every time.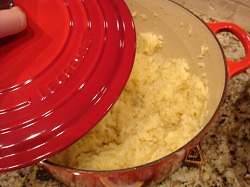 Serves 6 to 8
3 tablespoons unsalted butter
1 medium onion, minced
Salt
3 medium garlic cloves, minced or pressed through a garlic press (about 1 tablespoon) (I use the minced garlic in jars)
Large pinch saffron (optional) (I add this every time and it works like a charm, ahhh aromatics!)
2 cups Arborio rice
4 ¾ cups low-sodium chicken broth
1 cup dry white wine (helpful hint:  one 187ml bottle = 1 cup)
2 ounces Parmesan cheese, grated (about 1 cup)
Gound black pepper
DIRECTIONS: Adjust an oven rack to the middle position and heat the oven to 400 degrees.
Melt the butter in a large Dutch oven over medium heat. Add the onion and ¼ teaspoon salt and cook, stirring often, until softened, about 5 to 7 minutes. Stir in the garlic and saffron, if using, and cook until fragrant, about 30 seconds. Stir in the rice and cook until the grain edges are transparent, about 4 minutes.
Stir in 3 ½ cups of the chicken broth and the wine. Cover the pot, increase the heat to high, and bring to a simmer. Place the pot in the oven and bake the rice until it is tender and no water remains, about 20 minutes.
Just before removing the risotto from the oven, microwave the remaining 1 ¼ cups broth in a covered microwave-safe bowl on high power until hot. Remove the risotto from the oven and stir in the hot broth and Parmesan. Season with salt and pepper to taste and serve immediately.
Recipe from Cook's Illustrated (Check them out at www.cooksillustrated.com They personally changed my life by teaching me how to cook!) To see more of Lyndi's recipes or read more about her foodie experiences in Northwest Arkansas, click here.

Mamas, we know you appreciate Chick-fil-A as much as we do on those days we just DON'T want to cook! And if you're watching your weight, we love that they have a nutrition guide that includes a meal calculator, diabetic exchange and more useful information. CLICK HERE to go that section of the national website. We'll see you near the play area!